Welcome to the Christian Fiction Scavenger Hunt! If you've just discovered the hunt, be sure to start at Stop #1, and collect the clues through all 25 stops, in order, so you can enter to win one of our top 3 grand prizes!
The hunt BEGINS with Stop #1 at Lisa Bergren's site.
Hunt through our loop using Chrome or Firefox as your browser (not Explorer).
There is NO RUSH to complete the hunt—you have all weekend (until Sunday, 10/22 at midnight MST)! So take your time, reading the unique posts along the way; our hope is that you discover new authors/new books.
Submit your entry for the grand prizes by collecting the clue on each author's scavenger hunt post and submitting your answer in the Rafflecopter form at Stop #25. Many authors are offering additional prizes along the way!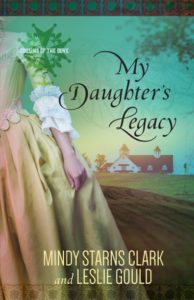 It's my pleasure to host award winning author, Mindy Starns Clark on this Scavenger Hunt. Mindy has numerous fiction and nonfiction books to her credit and you can be sure of a good read when you pick up one of Mindy's books. Here's more about her newest book, My Daughter's Legacy, a thrilling tale of how two women longing to follow God's leading, make the most of second chances and find true love at last.
Women of Unfailing Conviction
Virginia, 1864
Therese Jennings cannot abide the thought of owning slaves. When her widowed mother inherits a plantation, Therese flees to Civil War Richmond, where she works as a governess by day and tends to wounded soldiers at night. But when trouble befalls her family, can she reconcile her obligations with her beliefs? And will love—whether with an old beau or a handsome new suitor—ever fit in her broken world?
Virginia, present day
Nicole Talbot's life is back on track after years of substance abuse. Home from college for the summer, she's finally ready to share a shocking secret, one that raises new questions about a traumatic childhood experience. But when facts she uncovers cast doubt on her family's legacy, she must risk all that she's gained—her fresh start, her family's trust, and her growing relationship with a new man—to unlock the secrets of the past.
Now it's Mindy's turn. Enjoy.
A Southern Belle by Mindy Starns Clark
Just because my latest book is a serious work of fiction doesn't mean I can't get a little silly now and then when sharing it with others. "Silly" is definitely the word for this video—though I'm hoping you'll have as much fun watching it as I did making it!
The Story
A bit of background on the novel first…
My Daughter's Legacy , co-written with Leslie Gould, is the third and final book in our Cousins of the Dove series.
The novel features two heroines living in two different eras—one in the Civil War south of 1864 and one in the modern day—and their stories intertwine in unique and important ways.
The Movie
The minute-and-a-half film below, which is making its debut here, presents a reenactment of a brief excerpt from the historical portion of the story.
Like I said, it's pretty silly—and it doesn't reflect the tone of the tale, which is far more dignified, I promise—but it is a lot of fun. The star of the movie is my dog, Belle, who plays the roles of both Therese and her mother.
As you watch, bear in mind that NO ANIMALS WERE HARMED IN THE MAKING OF THIS FILM! If you follow me on Facebook, where Belle is featured every Friday, you'll know she's a Therapy Dog and loves any activity—with or without costumes—that puts her at the center of attention. My daughter Emily was her "handler" throughout filming, and the only possible negative ramification from that process was that Belle may have earned a few too many dog treats for her good behavior. J
So, drum roll please, with all of the above in mind, I hope you enjoy Belle's reenactment of a brief scene from the historical portion of My Daughter's Legacy…
To see more of Belle, including another upcoming reenactment from the book and an eventual "Making of" video, visit my blog or follow me on Facebook. Thanks for watching, and best wishes as you continue with the Scavenger Hunt!
Thanks, Mindy.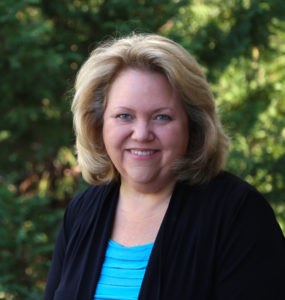 What a fun post! Hope you all enjoyed reading about Mindy's new book, My Daughter's Legacy, and watching Belle act out that scene. Don't think I could have ever talked any of my dogs into wearing a hat!
Mindy Starns Clark is the bestselling author of more than 30 books, both fiction and nonfiction. She has received numerous honors, including Christy Awards, Inspirational Readers Choice Awards, and RT Book Review's Career Achievement Award. Visit her website at www.mindystarnsclark.com, or find her on Facebook at www.facebook.com/MindyStarnsClark.
Here's the Stop #10 Skinny:
You can order Mindy's book on Amazon, Barnes & Noble, CBD, Indiebound or at your local bookstore! 
Clue to Write Down: new
Link to Stop #11, the Next Stop on the Loop: Mindy Starns Clark's own site!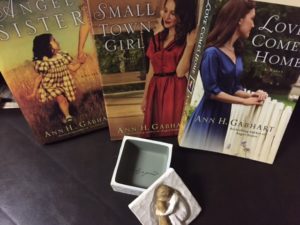 But wait! Before you go, enter my giveaway for all three Rosey Corner books, Angel Sister, Small Town Girl, & Love Comes Home plus a Willow Tree keepsake box. By entering on Rafflecopter you agree to give my occasional e-newsletter a try. If you already receive "Ann's News," thanks so much, but be sure to stiIl enter the giveaway. The winner will be picked on October 23, 2017. If you have trouble with Rafflecopter, leave a comment and I'll make sure you're entered for the Rosey Corner books and Willow Tree keepsake box. And I hope you'll take a minute to tell me what you like best about reading Christian Fiction before you go. I love hearing from you.
Now go have fun as you head on to Stop #11 to gather the next Scavenger Hunt clue to enter the drawing for some great grand prizes.
(By the way the computer gremlins are working against me, and the Rafflecopter form won't show up here, but if you click on the link, you'll hop over to form where you can enter my giveaway.)
Save
Save
Save
Save
Save
Save
Save
Save
Save
Save