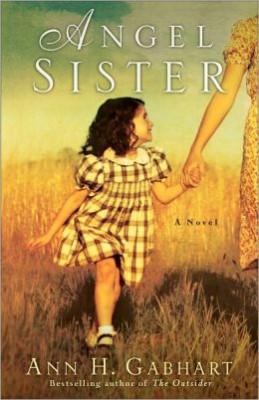 "Like a Kentucky summer, Angel Sister starts slow and easy but by the end roars along, leaving the reader breathless and wanting more."
About the Book
"Like a Kentucky summer, Angel Sister starts slow and easy but by the end roars along, leaving the reader breathless and wanting more. What a jewel of a story. Reminded me of To Kill a Mockingbird." – Lauraine Snelling, bestselling author of the Red River Series
"This book will leave you changed as it uncovers family secrets and draws you into the days following the first World War and the Great Depression. It will astound you how the characters persevere while making difficult decisions amidst heartache, and their determination to make it through the toughest of hard times." — RT Book Reviews, 4½ Stars Top Pick
It is 1936 and Kate Merritt, the middle child of Victor and Nadine, works hard to keep her family together. Her father slowly slips into alcoholism and his business suffers during the Great Depression. As her mother tries to come to grips with their situation and her sisters seem to remain blissfully oblivious to any problems, it is Kate who must shoulder the emotional load. Who could imagine that a dirty, abandoned little girl named Lorena Birdsong would be just what the Merritts need?
This richly textured novel reveals the power of true love, the freedom of forgiveness, and the strength to persevere through troubled times. Multidimensional characters face real and trenchant problems while maintaining their family bonds, all against the backdrop of a sultry Kentucky summer.
Reading Group Guide for Angel Sister
– A Night Owl Reviews Top Pick
"Angel Sister, the beautifully molded and eloquently crafted novel by author Ann H. Gabhart is worthy of more than five-stars. If I could give this a "priceless" or "epic" or "must read" I would, and I will. After the first couple of pages, I was hooked completely and drawn into this powerful novel about a family; not just a family, but a family from the Depression Era. The dry, and hot, backdrop of a Kentucky summer is wonderfully and majestically written. I felt like I needed to fan myself because of the heat permeating from the pages." – Books4Betty – read more…Night Owl Review
"Author Ann H. Gabhart has created a beautiful story, ANGEL SISTER, that promises to touch your heart. In fact, readers will be treated to an emotional roller coaster ride as we empathize with the Merritt family, especially Kate. Set in the depression years in a small town run by two stubborn men, ANGEL SISTER is sure to remain in your thoughts as you ponder its message long after the book is closed. Delight in this lovely inspirational novel written by talented Ann H. Gabhart." — SingleTitles.com
Reading Group Guide for Angel Sister
Save
Save
Save
Save
Other Books in "The Rosey Corner Series"
Disclosure of Material Connection: Some of the links in the page above are "affiliate links." This means if you click on the link and purchase the item, I will receive an affiliate commission. I am disclosing this in accordance with the Federal Trade Commission's
16 CFR, Part 255
: "Guides Concerning the Use of Endorsements and Testimonials in Advertising."