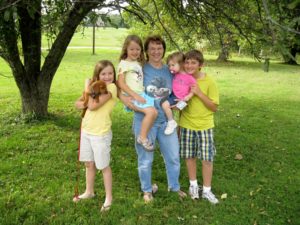 Thank all of you who joined in with the fun of my "Name your Caption" game here. You all came up with some great captions for the pictures I posted. I appreciate all the comments and especially appreciate those of you who come check out things here every week.
I don't have a new picture up for a caption, but I thought I'd put one up for fun. This one would surely say "Happy Grammy." It was my birthday several years ago when we took a birthday picture. The kids have gotten much taller since then. I can't pick one of them up to hold now, much less two.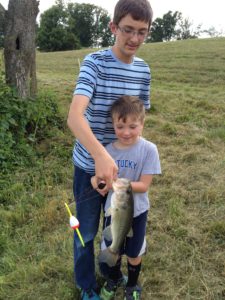 You came up with some great captions for my fishing picture. Some of you mentioned being "fishers of men." Becky said they were looking for fish teeth and not finding any. Several of you talked about the fish's big mouth. My favorite though had to be Shirley's. "Jesus said they had coins in their mouths, are you sure you looked good?" Love it, Shirley.
Of course that comes from the Bible verse where Jesus tells Peter to go catch a fish in order to pay their temple taxes in Matthew 17:27. You have to wonder if Peter rushed to do as Jesus said with confidence that indeed he was going to find money in a fish's mouth or if he shook his head at the oddness of Jesus' command. Go to the sea. Cast in a hook. Take the first fish that comes up and open its mouth to find the coin. Not just any coin but one that was the perfect amount to pay the temple taxes for Jesus and for Peter. There are deeper lessons in the passage – one of those being that Peter did grab a fishing pole, bait his hook and pull that fish out of the sea. But I had to smile at the idea of a child hearing that story and maybe thinking he might find a coin in a different fish's mouth.
Three Book Winners
That sort of sounds like the name of a rock band of something. You know, like Three Dog Night. Sorry about that, I couldn't resist. But back to business here. I love having giveaways. I especially enjoy giving away books to my reading friends here. And so, I numbered all of your comments and used a random number generator online to pick three numbers.
Drum roll, please. The winners are Megan H. of Pennsylvania, Pat M of  Arkansas and Susan H. Megan picked my book Murder Comes by Mail and a grab bag book, Dangerous Illusions by Irene Hannon. Pat picked Angel Sister and a second grab bag book. Susan H. hasn't responded to my earlier e-mail message to her as yet. So Susan if you see this, check your e-mail messages.
Here are a few fishing quotes to end this post.
An angler is a man who spends rainy days sitting on the muddy banks of rivers doing nothing because his wife won't let him do it at home. ~ Anonymous
Three-fourths of the Earth's surface is water, and one-fourth is land. It is quite clear that the good Lord intended us to spend triple the amount of time fishing as taking care of the lawn. ~ Chuck Clark
May the holes in your net be no larger than the fish in it. ~ Irish Saying
Thanks again for playing my caption game. I'll come up with more giveaways soon. And as always, thanks for reading.