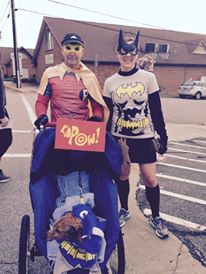 Dachshunds have their own agenda and can be stubborn about seeing their plans through to completion. (Maria Doria Russell)
There are dogs and then there are DOGS. Sumo was one of those extraordinary ones. Sumo, a dachshund, belonged to my son-in-law's father and when he passed away, my son-in-law and daughter took Sumo for their own. Let me assure you – Sumo lucked out on that. By the time they got him, Sumo already had some health problems and crippling arthritis in his feet and legs. He could scoot along pretty well, but his running days were over. He did love sniffing things out and could find the smallest crumb dropped on the kitchen floor.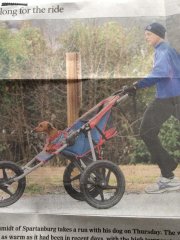 Sumo could tell time and wasn't shy about letting you know it was his dinnertime or it was time to get up and take him outside. As he got older, his ability to get around got less. But he was a dog who knew how to party. Hats were fine and dressing up as Batman was too as long at Robin and Cat Woman were around. Sumo was always ready to celebrate something. He probably "walked" more than most dogs. Of course that was in a dog sling over my daughter's shoulder or in a dog carriage. He even ran some marathons and made the newspapers.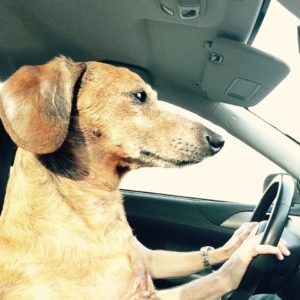 He liked to come to Kentucky to visit and sometimes it even looked like he might be driving. For sure he kept an eye on the road to make sure his people were on the right track. If he got a new toy that squeaked, it didn't squeak long. He managed to kill that squeak posthaste. And he loved treats.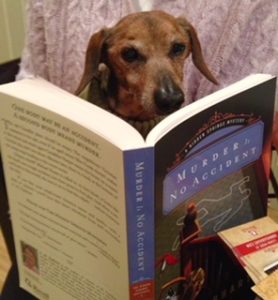 Best of all, Sumo liked to read and he had great taste in books. 🙂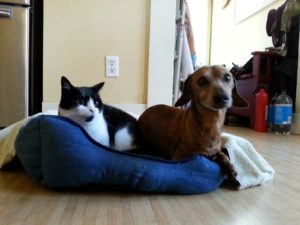 Sometimes he was such an escape artist he could have been Houdini's dog. My daughter would trap him in the kitchen while they went to work. They would come home and the gate would be pushed down, the barriers shoved aside as though some muscleman had come to help this pitiful little dog that could barely walk. But he was determined. Once he even made it down a flight of stairs to the basement. Maybe the cat whispered to him about the things that might go squeak down there. As you can see, he was fine with cats, even tricky ones that told him stories to steal his bed.
Sumo went on great vacations. To the beach. To the mountains. He was always ready to pose with his family. Selfies were fine. He had a grand time wherever he was.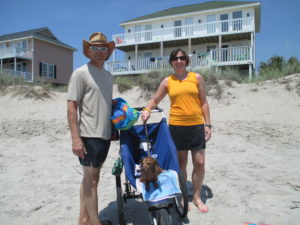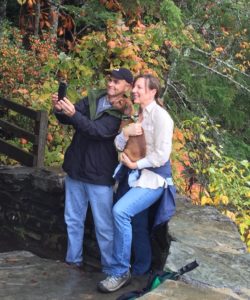 But he got to be an old man. Was over a hundred in dog years. Life was not looking as good. He lost an eye. He still liked "jogging" with my daughter in the early morning hours. But then things got worse overnight. It was time for him to run his last race over the rainbow bridge. Sumo can hunt squeaky things to his heart's content now and have fun with Oscar and with all the other sweet dogs our family has loved and lost.
Being the owner of Dachshunds, to me a book on dog discipline becomes a volume of inspired humor. Every sentence is a riot. Some day, if I ever get a chance, I shall write a book, or warning, on the character and temperament of the Dachshund and why he can't be trained and shouldn't be. I would rather train a striped zebra to balance an Indian club than induce a Dachshund to heed my slightest command. When I address Fred I never have to raise either my voice or my hopes. He even disobeys me when I instruct him in something he wants to do. (E. B. White)
Have you ever known a dachshund?