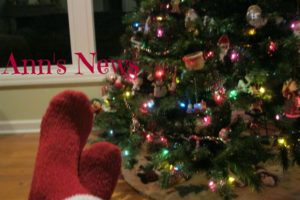 I believe that every life is a collection of individual 'journey stories.' ~Dieter F. Uchtdorf
Do you feel like you are on a journey as you look ahead or have been on a journey when you look behind? I can agree with Dieter F. Uchtdorf's quote about life being a series of "journey stories." When I think back on my life, I see it in chunks of times or journeys. Through the first journey, I was a child, learning about so many things. Then I married and set out on a new journey, still learning of course. I became a mother to guide my own children on their beginning journeys.
I have had seasons of work, some lovely writing work, some brain-draining writing work, some farm work, some secretarial work. I've gardened and canned produce. I've painted walls and houses. I've written stories and books. I've counted cows and carried in wood. I've nursed children through all kinds of childhood complaints. I've encouraged those same children along many new journeys they took in life. I've been a Sunday school teacher and part of a church family. I've cooked for preachers and work hands and hosted plenty of family get togethers. I've roasted hotdogs over a campfire. I've picked apples by the bushel. I've tasted strawberries freshly ripened by the sun without bothering to wash them first. I've fought briars and snakes for wild blackberries and enjoyed the jam that bubbled and cooked in the same iron pot my mother used to cook her jam. I've welcomed new babies into the family and said sad goodbyes to those who departed this world. Now I'm in my grandmother journey time with the blessing of seeing my grandchildren grow up. In time I may even get to meet some of my great grandchildren should the Lord give me enough years to journey on.
Along those journeys, I've seen a lot of Christmases. In that early childhood journey Christmas came slower than molasses. December seemed three months long. Then as a mom it was fun seeing Christmas through the eyes of my children. They were shepherds and wise men and angels in church Christmas plays. They overflowed with excitement on Christmas morning. We enjoyed. Now it seems that Christmas zooms around way too fast, but I still enjoy Christmas and having my family come home to celebrate. It's good to re-experience the wonder and joys of Christmas with my grandchildren now.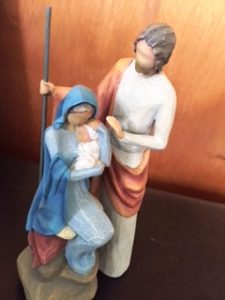 I know many of you have been or are on some of the same journeys as me. You have lovely memories of times past and are making new memories on your new journeys.
I sent out a Merry Christmas newsletter this week. If you didn't get one, let me know and I can e-mail you one or you can find it on my Facebook page or find it on the web here. As with every newsletter, I have a giveaway. Since it's Christmas, the first prize is this Willow Tree statue of Mary, Joseph, and baby Jesus plus winner's choice of one of my books. Second prize is a package of Novel Teabags that have literary quotes on every teabag tag along with winner's choice of a book. Third prize is the choice of one of my books. You can enter by sending me an e-mail from my Contact Page or leaving a comment here on my blog post. Deadline for entering is midnight EST December 16, 2017, and you must be at least 18 to enter. If you want to, you can tell me about a favorite Christmas gift or tradition. A story is not necessary to enter, but your stories are always fun.
Here's what Jolene wrote about one of her family traditions at Christmas.
Wish you really lived nearby 'cause I have a hunch there'd be some singing and music going on. That's what happens every time my family gets together. That box of hymnals gets drug out and they're soon calling out one favorite after another. Sometimes they even mention what key it's in tho' I don't usually pay serious attention to that, choosing rather to play it a bit lower since none of us are great sopranos or tenors. Interspersed among those great hymns of faith are various choruses learned in Sunday School or at summer Bible camp or collected from who knows what corner of the country. And I can't think of any better way to celebrate family than by rejoicing in our spiritual family relationship and the promise of that greatest-of-all-family-reunions awaiting us.
"Christmas feels like a little sample of heaven's celebration." (That's from Jolene too.)
Thanks for sharing that with us, Jolene. It makes me smile as I think of some favorite hymns and some of the songs we learned with the kids at Bible School. I'm thinking we might all be humming "Jesus Loves Me" now.
Thanks for reading and stop back by on Sunday night. I have some really great stories to share. One of them had me blinking back tears as one of my newsletter readers learned the true value of a gift at Christmas when she was six years old. Oh, and I did get up my Christmas tree with the help of three of my granddaughters. Made it more fun. The picture up top is from a few years ago, but my tree looks about the same every year. I was resting with my Christmas socks on and enjoying the lights.