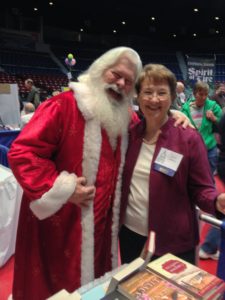 I love the Kentucky Book Fair and I'm happy I get to be part of the Fair this Saturday, November 18th. Looks as though sometimes even Santa likes being at the Book Fair. 2013 was a good year for Book Fair pictures. I've got this one with Santa and then I also got to pose with Woody the writing Dachshund and his helper, Leigh Ann Florence. Woody always charms the kids and puts his paw print on his books. A dog at your book table does guarantee you'll have plenty of people to stop to talk.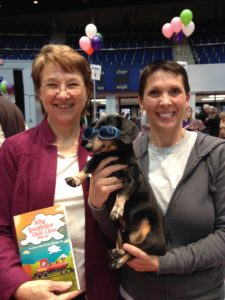 I've been fortunate enough to sit behind a table at the Kentucky Book Fair many years. I'm guessing somewhere between fifteen and twenty times. I know I've been at the Fair every year since 2005 when Scent of Lilacs was published. Then I was there with my young adult books back in the 1980's and early 1990's.
Those first Book Fairs were at the Kentucky Library and Archives building, but the Fair soon outgrew that venue. Then it moved to the Kentucky State University for a few years before it spent many years in the Frankfort Convention Center. The Fair always did well there, but unfortunately that building is in line for demolition. So the Fair had to find a new home. This is the 36th annual Book Fair and the first time it hasn't been in Frankfort. This year the Fair will be at the Alltech Arena at the Kentucky Horse Park. The Book Fair Committee has arranged free parking and no admission charge to attend the Book Fair.
I hope that readers will still come out and hunt great books to read or to give as Christmas gifts. I love giving books at Christmas time. I often tell my family that each of them are going to get a book under the tree whether they want one or not. I'm glad that most of my kids and grandkids are readers and do want those books.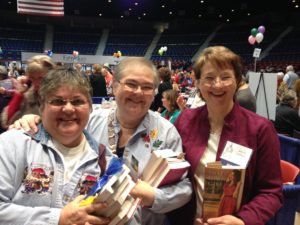 One of the best things about being at the Fair so many times is that I get to know some of the readers who come by my table every year. These two sisters used to come by my book table every year. I always enjoy their smiles. Then it's fun having my grandkids come help me look at books. They are almost as good as a puppy dog at the table. Of course, they do sometimes get Grammy to buy a few more books than she might have been planning to get. It is a good time for me to get some of those Christmas present books.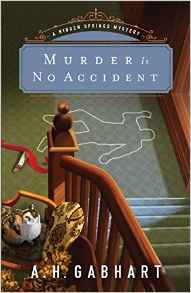 This year I get to go to the Fair two days. Since I have the middle reader book, Freak of the Week, I can go on Friday when schools take field trips to the Fair. I'm looking forward to seeing and talking to some young readers. Then Saturday I'll get to talk to more people about my books, especially the two published in 2017, Murder Is No Accident and These Healing Hills.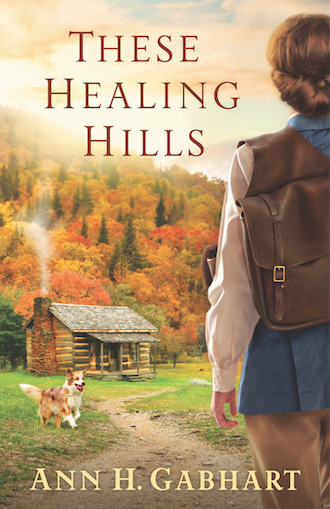 By the way, I got the exciting news today that These Healing Hills is on the October CBA Bestseller list. I thank all of you who read my book and told your friends about my story to help make that happen. I also appreciate all of you who have written reviews and posted them.
If you haven't had a chance to read These Healing Hills yet, you can hop over to Karen Lange's blog, Write Now, where I talk about writing my mountain story and leave a comment there before midnight Thursday, Nov. 16th, to have a chance to win a copy. Not a lot of comments right now, so your chance to win might be good.
I do hope if you're in the Lexington, KY area, you'll make a trip out to the Kentucky Horse Park. You'll have about 180 authors to talk to. Besides all of us ready to talk to you at the book tables, there will be panels and book talks all day. You can see the schedule at the Kentucky Book Fair site. It promises to be a very entertaining day for those who love books.
As always, thanks for reading.
You're never too old, too wacky, too wild, to pick up a book and read to a child. ~Dr. Seuss