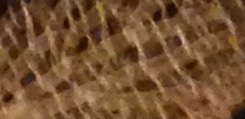 Between our birth and death we may touch understanding, As a moth brushes a window with its wing. ~Christopher Fry
I dreamed I was a butterfly, flitting around in the sky; then I awoke. Now I wonder: Am I a man who dreamt of being a butterfly, or am I a butterfly dreaming that I am a man? ~Zhuangzi
I've had much fun with my mystery picture giveaway the last few weeks, and I hope you have too. I've loved your imaginative guesses. You've opened my eyes to seeing new things in those pictures. And I have to boast a bit here. One of the pictures I posted was a real stumper – that close-up of a woolly worm. Fun that Pat stayed with the woolly worm guess on this one, guessing an upside down woolly worm. Emily gets the most imaginative prize this post with her guess of an aerial view of a yellow and black trash can lid. But the Halloween skeleton eye guess by Lois was imaginative too and very seasonal. I could see the halved avocados that Peggy and Lacy guessed, although Lacy should have stayed with her first thought and then she would have been right. The peacock feather guess from Kathy was good and I liked Connie's googly eyes on a leaf guess. I don't know what cookies Ellen and Karen are meaning, but I'm having to squint to see cookies. Rebecca saw a crocheted scrubber or a sunflower. Paula guessed the edge of a painted dish.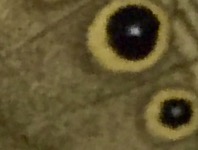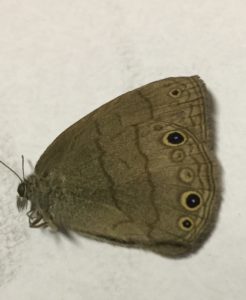 But for most of you Wednesday's mystery photo wasn't much of a mystery. Kathleen, Shirley B., Lisa B., Laura nailed it in one guess, and Janice W. was absolutely right since she even said the type of moth – a polyphemus moth. I had to look up polyphemus, but yes, it does appear to be a polyphemus moth. Others of you hedged your guesses by saying moth and butterfly or caterpillar or dragonfly while some of you just chose butterfly.
Butterflies and moths are different. Moths are nocturnal and butterflies are diurnal. I've heard the word nocturnal a lot. No explanation needed for it, but I was glad the article I found explained diurnal – active during the day. Learn something new every day. The problem is remembering what you learn.  The way butterflies and moths hold their wings is different too with butterflies usually folding their wings back, while moths flatten their wings against their bodies or spread them out in a "jet plane" position. This poor moth had already lived out its short life when I found it so that might be why its wings were folded.
And so we come to our last mystery photo for this round of mystery photos. You have until Tuesday night at midnight EST to make a guess on the picture up top to get another entry into the drawing to perhaps be one of three winners who will get their choice of one of my books.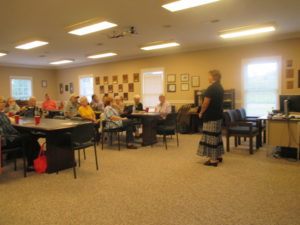 I had my Hometown Book Party today. Always fun to talk books with reading friends. Wish you all could come to one of my parties. It was a rainy afternoon, but some braved the rain and came anyway. And they listened politely while I talked about the history of the Frontier Nursing Service that I centered my book, These Healing Hills, around.
It will be a while before I have a new book out to celebrate. But I am going to be taking part in a fun internet Scavenger Hunt that starts on October 19th. Over twenty authors will be taking part and you will have a chance to win a copy of each author's new release besides other gifts – over a $1,000 in prizes plus the fun of the Scavenger Hunt. Most of the authors who have posts along the hunt are giving away additional prizes too. I'm giving away a set of my Rosey Corner books and a Willow Tree Keepsake box with a girl holding a dog. So mark your calendars and come along for the fun next week on the 19th.
As always, thanks for reading and for playing my mystery photo game. I'm ready for your guesses, starting now!
Save
Save
Save