ATTENTION! NURSE GRADUATES WITH A SENSE OF ADVENTURE! YOUR OWN HORSE, YOUR OWN DOG, AND A THOUSAND MILES OF KENTUCKY MOUNTAINS TO SERVE. JOIN MY NURSES BRIGADE AND HELP SAVE CHILDREN'S LIVES. WRITE TO: M. BRECKINRIDGE, HYDEN, KENTUCKY USA
Even though this was an advertisement the Frontier Nursing Service put in London newspapers and the Glasgow Times in Scotland to recruit midwives to come to Leslie County, Kentucky, I took fictional license and let it be on the hospital bulletin board where my character, Francine worked in Cincinnati. My character was definitely drawn by the idea of her own horse and dog and of course, the promise for adventure while saving the lives of children.
I had my character already comfortable riding horses, but some of the nurse midwives came with little actual experience of riding horses on mountain trails and through rivers. Those were given riding lessons and sent on their way.
T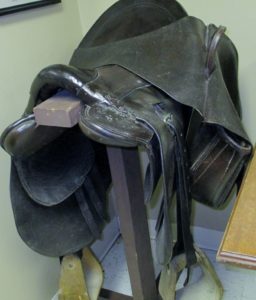 he nurse midwives took the saddlebags you see slung over the nurse's shoulder here on all their home visits. A man in a nearby mountain county made the large roomy saddlebags by hand. In 1926 the pair of saddlebags cost $13. Regular saddlebags were too small to serve the nurse midwives needs. The bags had metal buttons inside to attach washable linings. Each nurse had a set of saddlebags, one side had a white lining for midwifery only and the other side a blue-checked lining for general nursing. The nurse midwives had to learn to pack their bags just right because it was important to have the weight evenly distributed to keep from causing trouble with their horses' backs. A bad back on a horse in the Frontier Nursing Service caused by improper packing of the saddlebags was a disgrace.
Healthy and dependable horses were essential to the nurse midwives. They had to be able to saddle their horses and head out as soon as someone came for them. All the horses had names as did all Mary Breckinridge's animals. She said if you loved it, you named it. That included her hens and geese, pigs and cows as well as the horses and dogs. When jeeps began to take the place of the horses after the war, she named those too.
When the nurse midwives did reach the cabins of expectant mothers, the men would generally see to their horses while the midwives cared for their wives. The nurse midwives would stay until the baby was born however long that might be.
Hope you've enjoyed going behind the scenes with me about the research I did for my book, These Healing Hills. Oh, and thank all of you who have already read the book and told me you enjoyed the story. A special thanks to those of you who have posted reviews. And as always, thanks for reading my words here. I love hearing from you too, so be assured each of your comments is read and appreciated.
A Chance to Win 10 Historical Fiction Books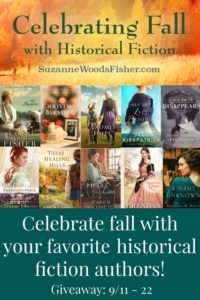 I've teamed up with Suzanne Woods Fisher and 8 other fantastic historical fiction authors for a special fun glimpse into our writing. Plus, we're each giving away a copy of our new fall releases! You can win my new novel, These Healing Hills,  along with all the other books in the picture here. A different author is featured each day with my post coming on Tuesday. But you can enter the giveaway any time by clicking here. If you win, you won't lack for reading material for a while. So good luck.