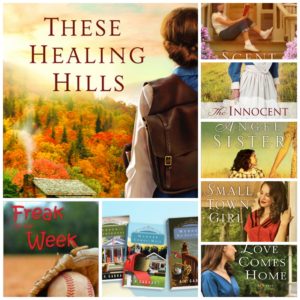 Did you ever have someone tell you that you can't judge a book by the cover? Usually when I heard that from my mother or someone else when I was a kid, it didn't have much to do with a book. They were telling me I should look below the surface when I met new friends.
However, now I'm in the book writing business and I know that book covers definitely matter. People do often get at least their first impression about a book from the cover. If the reader is not already a fan of the author's writing, the cover is what attracts his or her eyes as it sits on a bookstore shelf or comes up on an internet page. An enticing cover leads a browsing reader to turn the book over or click on a link to read the back cover copy or perhaps to sneak a peek at the first page. I've even had a few readers tell me they read the last paragraph to decide whether to buy a book or not. Sounds like that could be a story spoiler to me, but each reader has his or her own way to decide among the many books available which one they are going to read next.
This picture shows just a few of my book covers. All but Freak of the Week, my book for young readers, were designed by the talented art crew at Revell Books. They always seem to come up with a great cover to give a hint of what the story is going to be.
Some authors I know have taken part in the actual production of a cover by going the photo shoot and supplying input into the costumes or chosen scenes. I've never been on location but I have worked with the art director to help decide what my characters might wear on this or that cover. That was especially true with my Shaker books where the Shaker sisters did have a certain style outfit they were required to wear. With my new book, These Healing Hills, that was also true since the Frontier Nurse midwives had a uniform they wore as they worked in the mountains. For each book, I also filled out an information sheet about the characters personality and their appearance. Blue eyes or brown. Long hair or short. Blondes or brunettes. Basic clues to how my people look. Since most of my books with Revell have had covers that used models, that's important information in finding the right person to portray my characters on the cover. I know you've probably heard me say before that the cover of Angel Sister is a favorite of mine because the model for Lorena, the little girl, is so perfect. But I do like the cover for These Healing Hills too. Just love the dog on the cover and the fall colors.
The Hidden Springs mysteries are an exception in that they aren't photos but art work. That better suits the cozy mystery genre. While they may not have used real models for the cats on the covers, I did describe the cats to help make those covers fun. I still love the cat Grimalkin with her blue eyes that match the background on the cover of Murder Comes by Mail.
Right now the art department has begun work on the cover for my book that will release in the summer of 2018. Even before the edits are all finished, the wheels are turning to come up with a good cover. At this point, the art department has to depend on what I tell them about the characters and the story. My editor has input too, but it's up to me to say what sort of hairstyle, clothes, etc. a character would have. Next summer's book has been a difficult one since I have several viewpoint characters and jump with those characters from 1833 to 1845. One of my characters starts out as a seven-year-old and then she's nineteen. So you can see the dilemma. Who best to put on the cover? Right now they are considering using a seven-year-old along with another character. I'm excited about the possibilities of that cover. I know whatever they come up with will be perfect for the story.
I have a lot of admiration for the creative art department at Revell since they design fresh, eye-popping covers not just for my books, but for all their books. Each step along the way to a story becoming a book is important and that cover teamed with a great title is the invitation to step into a story.
Do you judge a book by the cover?
As always, thanks for reading.
Save