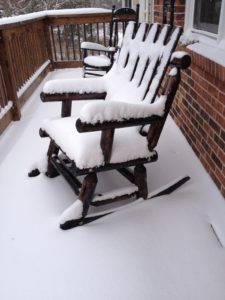 We're having a heat wave here in Kentucky. Upper 90's and all those crazy heat index numbers the weather people came up to make us feel miserable in the summer the way we do in the winter when they start spouting wind chill temperatures. It's never just whatever temperature the thermometer says anymore.
I could have used some of that chill from these pictures yesterday as I was putting sealant and stain on my decks. Somebody asked me to post a picture of my decks, but I didn't do a before and after picture. Plus, you all might see where I didn't do such a bang up job if I post pictures. But it suits me and maybe I'll dress it up with flowers and take a picture yet. But first we'll just head back to winter and let all that snow make us think cold.
I was determined to clean and put sealer on my deck after I met my last writing deadline. That was the first of June, but then I had several guest posts and interviews to complete to get the word out about my September release, These Healing Hills. There's always something to do that I have to admit is more appealing than scrubbing mildew off wood and smearing on sealant. But it needed doing. We had a man out to give us an estimate on doing the decks last fall but his price was eye-opening high. I can paint, I said. I'll do it, I said. When I finish my book, I said.
Sometimes a person says too much!! But anyway, off we went to the hardware store to buy all the necessary do-it-yourself things. I got rollers and brushes and a very heavy five gallon bucket of sealant. My husband, still recovering from gallbladder surgery, wasn't sure he should lift it. All I can say is that it's a good thing I carry weights when I walk. Just call me Muscle Ann. You might make that sore muscles Ann. 🙂
We bought that supposedly "no scrubbing necessary" deck cleaner. Maybe if your deck was the next thing to new or if you sprayed it on thick enough that might be true. Anyway, we sprayed and I scrubbed. The planks looked better, but… So Saturday, I sprayed on more deck cleaner and scrubbed some more. I ran out of deck cleaner before I ran out of deck. So I used white vinegar on the remaining boards. Worked like a charm and didn't assassinate my flowers and grass the way the deck cleaner did. The decks looked much cleaner. Not perfectly clean by any means, but much better.
Yesterday, my granddaughter came out and helped me paint all the railing. We have a lot of railing. She would have loved to have some of this snow to cool her off. It was hot! Sweat dripping from your forehead kind of hot. I told her it would look like we just got back from the beach – except for the paint on our hands. But we got it done and then just before dark last night I got the back deck's floor sealed. Now we're replacing some of the planks that aren't in good shape. I guess I should have waited until that happened to paint, but there was that promise I made about doing the deck when I finished my book. Sometimes you have to keep promises to yourself. Well, maybe all the time you should keep promises to yourself. But maybe you should be careful what you promise!
Hope the memory of this snow from the winter of 2015 will cool you off in this summer heat. Oh, and if you ever need a deck cleaned and sealed, don't call me. I'm hanging up my deck cleaning scrub brush. At least for a while. Well, that will be true until I have to stain the new planks we used to replace some planks that were in a sorry state.
But first I have edits to do on my summer of 2018 book.  I think I'll share about book covers come Sunday. Does that sound interesting?
Thanks, as always, for reading. Have you ever cleaned and sealed a deck? Did you need some refreshing snow to recuperate? At least the memory of snow.
Save