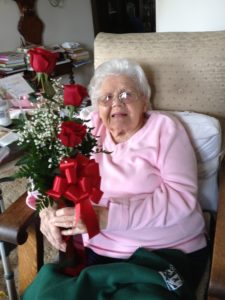 This morning at church, our talented pianist played "It Is Well with My Soul" for the special music during our offertory. For me. Not because I asked but because she remembered that was a song we played at Mom's funeral three years ago this week.
It's funny how time spins away. Sometimes it's like yesterday that Mom was here and then again, it seems like forever since I saw her smile. She was such a wonderful mother. A wonderful woman. And she taught me much. So today I'm remembering some of those things Mom taught me from how she lived.
Mom taught me how to love. Don't you think that might be one of the first things any mother might teach you? By example. A mother's love is pure and continuous. It lasts through colicky nights, temper tantrums, rebellion, sickness and all the joyful times as well. A mom loves and my mom certainly did that. I never once, ever doubted that my mother loved me. Even during those hard last years when she had Alzheimer's and no longer recognized who I was, I knew that in her heart beneath that dreadful disease that
was wiping out her memory, she loved me. And I loved her back. She taught me love.
She taught me faithfulness. She and Dad had nearly fifty years together before he died of pancreatic cancer. She took care of him through good and bad. She worked alongside him on the farm. She was of the generation that catered to their husbands. They did everything they could to make their men's lives easier. With Dad, Mom laid out his clothes. She turned down the bed. She made sure a cold water pitcher was always in the refrigerator on the exact same shelf. She cooked the food he liked. She made his life easier. While my husband is not quite as fortunate as Dad with some of these kinds of things, we are still together all these years later. Faithfully committed to one another.
Mom taught me perseverance and how to work. She never shied away from any tasks that needed doing and she always saw the job through whether it was working in the field all day and then coming home to fix supper and get us ready for school the next day. She expected my sisters and me to work too. We had chores. We worked in the crops. But she was always there with us, giving us a helping hand if needed. That perseverance serves me well in my writing life and helps me push through when the words don't come easy or when rejections pile up.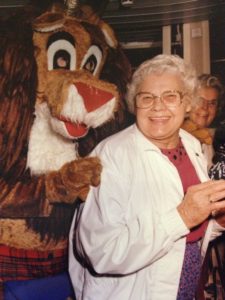 But perhaps one of the very best things she taught me was how to enjoy life. To smile. To get every bit of good out of everything that happens. Mom did that better than I ever will. She loved her life no matter the season. She enjoyed the simple things like feeding the birds and making jams and jelly. She loved to read. She liked to play cards. After Dad died, she traveled all over the world, taking cruises and tours and laughing with costume dogs. She knew how to have fun.
One of my good memories when good days weren't that common after Mo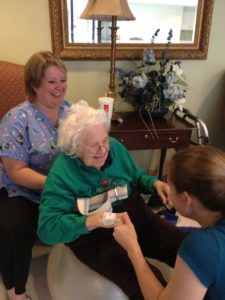 m broke her hip and had to be in the nursing home, was the physical therapists getting her to sit on a balance ball. The therapists and I doubted she would do it and then she sat down on that ball and jumped around like a kid. She had us all laughing.
I am blessed to have her smiles and joy in living running through my thoughts as I remember Mom. What a mama she was!
What is something your mom taught you?
Save