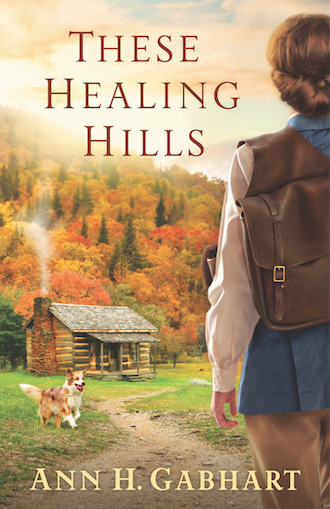 Cover Reveal Time
How do you like the cover on my upcoming September release, These Healing Hills? I know. The cover has been out there on Amazon and other internet sites for a while, but I hadn't posted it here for you all to see until now. So for me, it's a cover reveal to you as I count down to the release date of September 5, 2017. That's only a little over seven weeks away and while I definitely don't want to wish my summer away, I am excited about this book finding its way out to readers.
I loved following my characters to the Kentucky Appalachian Mountains. I liked finding out more about Mary Breckinridge and the Frontier Nursing Service she started in Leslie County in 1925. It was fun diving into The Wolfpen Notebooks by James Still to get some mountain speak in my ears and my characters' mouths. And then I have this cover with a dog on it. A dog named Sarge. That's a bonus for me. I am absolutely sure you dog lovers out there are going to like Sarge and I'm hoping you'll like my other characters too. Francine. Ben. Woody. Sadie. Becca. Granny Em. To name a few.
I just got the cover and information about These Healing Hills up on my website book pages today. You can check that out here, read the first chapter and find links to where the book is available for pre-ordering if you're interested in being among the first readers to get the book.
In the weeks ahead, I'll share some historical information about the Frontier Nursing Service and Mary Breckinridge. I've been given permission to post some of the Frontier Nursing Service's historical pictures too. That is a real treat. I'll tell you more about Wendover, Mary Breckinridge's home that is now a National Historical Site. Then maybe I'll do a post about some of those great mountain sayings or tell you more about some of the characters. I've already shared a swinging bridge scene between my main character, Francine, and a favorite mountain character, Granny Em back in May. Here's the link if you missed it and want to read it now.  Then of course, when it gets closer to September, I'll have to do some more mystery pictures or something fun here on One Writer's Journal plus send out a newsletter with a giveaway contest.  Hmm, what can I give away? A puppy? No, I couldn't mail that. LOL. But I'll figure out something.
But first, here's the cover. A good book cover is important in catching a reader's eye and enticing that eye with a promise of the story between the covers.
Does this cover make that kind of promise to you? What do you like about it?  Would it make you pick up the book to read the back cover copy? Do you want to know more about my nurse midwife and her dog? I hope so.
As always, thanks for reading.
Save