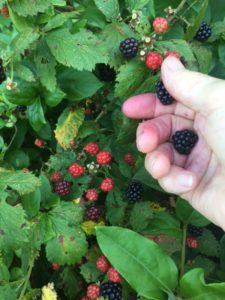 Have you ever been blackberry picking? Wild blackberry picking? We have some tame thornless blackberries in our garden now. It can be an adventure to pick those since we didn't keep them trimmed as we should have and some of the vines are ten feet tall. The best berries are always the ones on the tiptop vines and just barely out of reach. Always. And the birds love the berries. A few enterprising birds even built their nests in the vines. No need to fly far for breakfast.
But picking those can't compare to wild berries. When I grew up, it was simply part of our summer to get our buckets and go hunt up some wild blackberry canes in the fields. My dad had a fairly large farm and we knew where the best berries grew. So come July, we'd put on our long pants and long sleeve shirts, grab some buckets and off to the field we'd go. Then Mom would make blackberry jam and pies.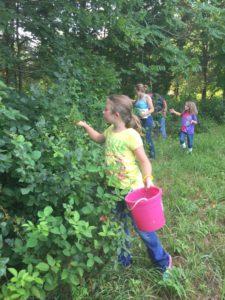 I carried on the berry picking tradition after I got married. Sometimes the kids would go with me to pick and sometimes I went early in the morning to fill my bucket. Then we planted some boysenberry bushes in our yard and for quite a few years, they produced plenty of berries for me to make pies and jam. So I let the birds and deer have the wild berries. But the boysenberry bushes finally got old and stopped producing very well. My husband got tired of mowing around them because of their nasty thorns. Boysenberry have serious thorns that have a way of reaching out and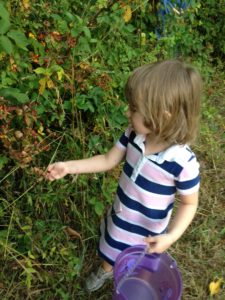 grabbing you if you get anywhere close to them. I liked them enough that I picked them anyway, but I had plenty of scratches to show for it. I used to have a little Brittany spaniel that would eat them off the bush. I never knew how she did that without major pain from the thorns. Anyway, my husband got rid of our bushes in the yard although we have some volunteer ones around the garden still, thorns and all.
Then my grandkids came along and loved peanut butter and jam sandwiches. So every year my son and his family come blackberry picking. The wild vines, some mixed with boysenberries, grow beside the hay field in the fence rows and are not that hard to pick. Even my young granddaughters get a bucket and get in on the act. One thing for sure, it's more fun picking blackberry with grandkids than by yourself. And they get to continue the family tradition of braving the chiggers and ticks, the stickers and snakes to help bring home food for the table. Thanks to insect repellents, we keep off most of the pesky bugs and so far this year, I haven't seen a snake in the berry bushes. So far.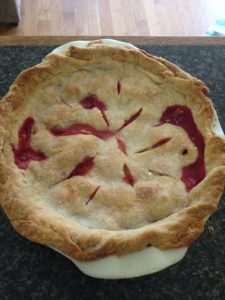 Have you ever gone out in the field to hunt blackberries? Did you pay for those sweet berries by having chigger bites? But did you enjoy a blackberry pie for your trouble?
Save