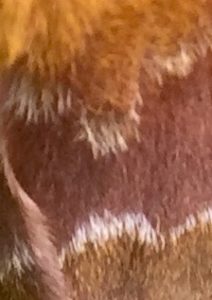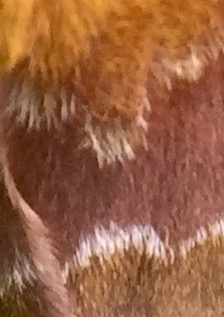 Some people are always grumbling because roses have thorns; I am thankful that thorns have roses. ~Alphonse Karr
Well, as old Abe Lincoln once said, you can fool some of the people some of the time, but not all the people all the time or something like that. Let's just say my first mystery photo was not the most mysterious one I've ever posted. Fifteen of you hit the nail squarely on the head saying it was a dew kissed rose and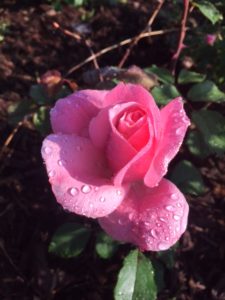 five more of you were very nearly right with your candy or icing roses. And I thought this might be one of those that fooled most of the people.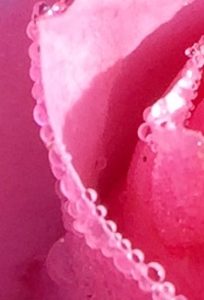 But it was definitely a rose that I spotted early one morning a few weeks ago in my neighbors' yard when I was feeding their dogs. Or as Kathleen so poetically stated it was "Moisture bubbles on fragrant pink fleur with the sun glancing off its delicate petals causing parts in shadow in the early morn." I think she may get the prize for the most perfectly descriptive guess I've ever gotten on one of my mystery photos.
However, some of you did make some imaginative wrong guesses. Thank goodness. Those guesses made me feel so much better. 🙂 Evelyn said a ruffled doily. I could see that. Jeanne and Stella were seeing lace edges. Sue said a candy dish and Lou Ann mentioned the kind, a candlewick dish. Ola saw a purse or tote bag. I liked Karen's lampshade and Nyla said ribbon. Emily was up there with the candy roses thinking it was a Valentine's cake. I loved Marji's sherbet shavings. I can see that, can't you? But my favorite wrong guess has to be Kathi's camisole. A very pink camisole. Lovely to consider. Phyllis just admitted she didn't know, a perfectly acceptable comment to get her name in the drawing for the books. For the rest of you, everything was coming up roses.
So here goes with mystery picture two. If you all get this one, I may have to throw my hands up in surrender. Anyway, you know the drill. You look at the mystery picture and then try to guess what it is. Each new picture gives you another chance to get your name in my drawing hat for the prizes. I'll pick three winners by random drawing and contact the winners via e-mail before I reveal the winners' first names here on my blog July 5th. The contest is open all 18 or over. No purchases or actions, other than the comment, are required to enter. But while it's always fun to win some books, just using your imagination to come up with some guesses can be fun too whether you win the books or not. We all need to exercise our imaginations and keep them sharp for all the books we want to read.
Walk down the fairway of life you must smell the roses, for you only get to play one round. ~Ben Hogan
As always, thanks for reading. And I look forward to your guesses on mystery picture 2!
Save
Save