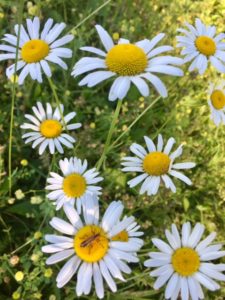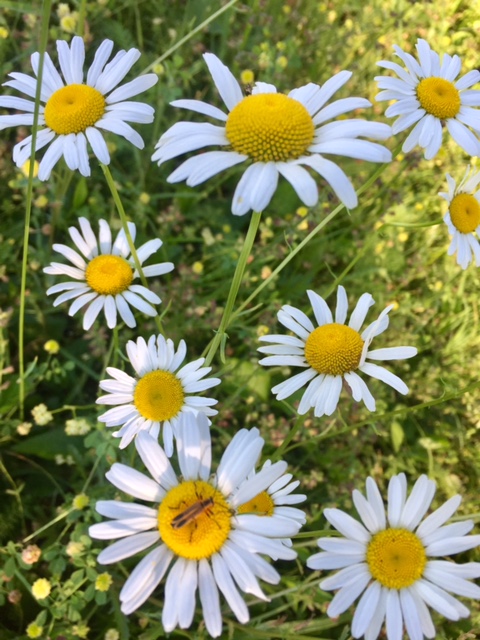 "If the English language made any sense, lackadaisical would have something to do with a lack of flowers." ~Doug Larson
No shortage of those daisies around here! I'm talking about ox-eye daisies like these that jump up all over the place to cheer up a field or a roadside ditch. They are sometimes called field daisies, common daisies, dog daisies or moon daisies. I didn't find an explanation for the name dog daisy, but they are called moon daisies because they are so white that at times, the flowers appear to glow in the night.
I like daisies and since I'm doing a giveaway right now where I've asked those who enter to share a favorite flower or vegetable, flowers are on my mind. A few people have mentioned daisies as that favorite flower. So, let's talk daisies.
The name daisy comes from an old Anglo Saxon word that has interesting letters I don't know how to type but it meant "day's eye," since daisies open at dawn. Middle English wrote it as dayesye which is a short step away from daisy. In Medieval Latin they were solis oculus which means "sun's eye."
While we look at the daisy and see one flower, actually a composite of tiny flowers make up the yellow middle that is surrounded by white "ray florets." If you're like me and most other kids, I'm sure you've picked daisies and plucked off those white florets one by one while saying, "He loves me. He loves me not." This perhaps has been going on for centuries since that is a line in the song "Daisy Bell" written by Harry Dacre in 1892. Sometime I may do another post all about that song.
But it's interesting that one of the flower meanings (according to the internet) is loyal love and "I will never tell." So we pluck daisy petals to figure out if he loves me or not. Of course, if you wanted it to come out he does indeed love you and the petals didn't cooperate, you just grabbed another daisy bloom and started over. 🙂 The daisy also symbolizes innocence and purity along with new beginnings. The innocence could be that we believe a daisy can tell us about our love life. Then, if it keeps turning up he doesn't love you, that could be where the new beginnings come in. My interpretation only. 🙂
Daisies are so fresh and plentiful for anybody to pick and enjoy. Right now I could pick armloads out in our fields. The reason for the abundance of blooms could be that cows don't generally eat daisies. It's not that they are poisonous. Maybe all those petals tickle their tongues or they just don't like the taste. I don't know. But according again to the all knowing internet, daisies are edible and can be used in salads. I even found a recipe telling how to batter and fry the flowers. Supposedly you can pickle them too. Pickled daisies. Interesting, but I'm not going to try that anytime soon.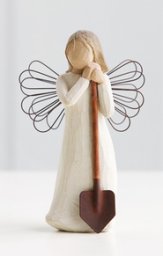 So now you probably know more than you ever wanted to about daisies. But until we're "pushing up daisies" I hope we'll keep wanting to read and learn more about all sorts of things.
If you would like to enter my giveaway for the cute Willow Tree gardening angel and a chance to win one of my books, all you have to do is send me an e-mail or leave a comment on this blog post. I'll also be picking four additional winners who will get to choose one of my books as a prize. Any e-mail will get you entered, but if you want, you can tell me your favorite flower or vegetable. (I'm keeping a list and variety has been the name of the game so far. All kinds of favorites.) And if you have a fun gardening story, please share it. Be sure to let me know if your story is for my eyes only as I sometimes share the stories forward here on my blog. Contest is open to residents 18 years and older in the USA and Canada. Deadline for entries Midnight EST, May 31, 2017. Winners picked by random drawing.
As always, thanks for reading. Hope you don't have any "oopsey daisy" moments in your day, but feel "fresh as a daisy" instead.
Save
Save