A busy time here at the farm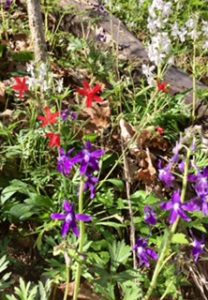 for Easter weekend. While all the family didn't get to come, some of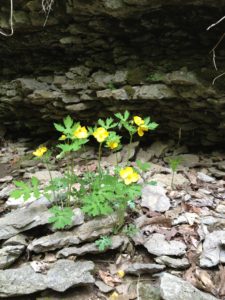 them did. My daughter and her husband and their German shepherd went wildflower hunting with me on Saturday morning. Actually my son-in-law was more into searching for fossils. So we found flowers blooming now and looked for evidence of long ago plants and animals too. He carried some rocks home, but we have plenty down at the creek. I only carried pictures of the flowers home. Hope you enjoy looking at them with me.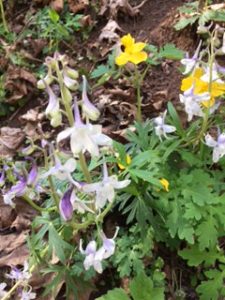 The red one here is Fire Pink. The purple and white ones around it are larkspur. I liked the yellow violet in the middle of more white larkspur.
One of my favorites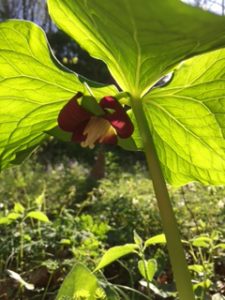 is always the bent head trillium. They are such showy plants with their big leaves and then you have to peek under them to find the lovely flowers.The ginger root are that way too. You have to look under the heart shaped leaves to find the brown flowers down at the base of the plant.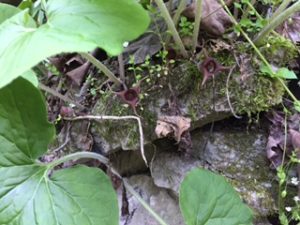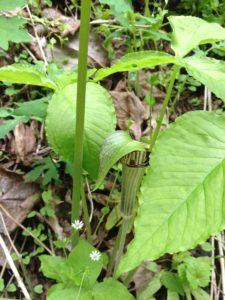 Another favorite to see each year is the jack-in-the-pulpit. I've learned to spot the leaves of that plant because often the flowers blend right in with their green surrounding and it takes a sharp eye to see it. But then that's the way many of the wildflowers and other blessings of nature can be. You have to take time to look and enjoy.
Thanks for going wildflower hunting with me. Wednesday I'll be answering more of your questions. If you have a question, let me know. Until then, thanks for reading.
Save
Save
Save