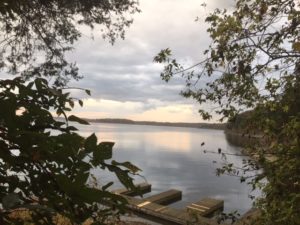 A vacation is having nothing to do and all day to do it in. ~Robert Orben
I finished my book in August. Did edits on it and also on my upcoming mystery in September. October came along and more little editing and blog guest posts to do. But then it came time to do some fun things. One Saturday we went to the Cave Run Storytelling Festival. Then I took some grandkid time and our church had Homecoming. Did some book events. Took off for my daughter's house in South Carolina with my sisters for a weekend visit. Came home for a night, packed up and headed to Barren River Lake to spend a few days with my husband's brothers and their wives.
We've been doing a sibling trip with his family for several years now. Until this year we always went to the Smoky Mountains because my sister-in-law lives in Georgia and the mountains were a mid-point destination. Unfortunately her husband wasn't able to travel this year so we picked a Kentucky vacation spot. A lovely cabin. Lovely scenery. Beautiful lake. Great weather. And best of all, I'd heard eagles were in the neighborhood. Every morning I got up at the crack of dawn while everyone else slept in to go eagle hunting. I was just sure if I walked down to the lake, an eagle would swoop down right in front of me and catch its breakfast. At least, that's what I was imagining. Didn't happen. The lake was beautiful in the early morning light. I saw fish jumping up out of the water to entice an eagle to take notice, but no eagle came. I saw ducks. Lots of ducks. I saw buzzards. Lots of buzzards. No eagles on my early morning trips to the lake.
But fortunately the cabin we rented had this wonderful screened-in back porch that looked out over the lake. The first night we were there, some of the people thought they saw an eagle, but I was inside helping fix our dinner. I was not a happy camper. The next day my brother-in-law and his wife went fishing and I walked down to the lake with them. We thought we saw an eagle way far away, but it was not much more than a dot in the sky with a white tail. But, here comes the good part. The next day I was out on that back porch with the same couple and my brother-in-law jumps up and points out at the sky. And there is an eagle flying above the trees over our cabin and down toward the lake. I didn't see it for long, but I did finally see an eagle. Mark that off my bucket list, but I still think I'll try one of those eagle weekends at some of the Western Kentucky lakes in January and February. Online it says there are hundreds of eagles in that area then. Surely I'd see another one. Maybe two.
Have you ever seen an eagle flying overhead? One of my Facebook friends said that when she was in elementary school, that a wildlife expert told her class that their grandchildren might never see an eagle except in captivity. I am so glad that person was wrong and that eagles again fly the skies over our country. Aren't you?
But the best thing about my vacation last week was being first with my sisters and my daughter and her husband and then with my in-law sisters and brothers. One of my brothers-in-law said that some people didn't believe him when he said that he hadn't had any major arguments or disagreements with his brothers since they were kids. That makes vacationing together extra fun. We laugh and tell family stories and best of all, get along.
Do you like to vacation with family?