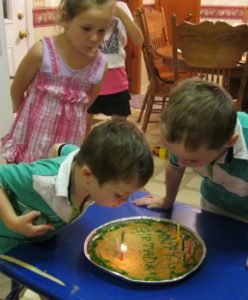 Age is a case of mind over matter. If you don't mind, it don't matter. ~Satchel Paige
These kids don't mind birthdays at all. They love them. Getting older is exciting. But as the years pile on, we start wanting to drag our feet a little about that getting older stuff. I still love birthdays. I just have a problem believing how they count up. 🙂 But I really do love celebrating birthdays with my kids and grandkids.
And I enjoy celebrating with you, my reading friends. That's why I asked you to tell me something fun you've done on your birthday when you enter my Annual Birthday Giveaway. Any message or comment will do, but I love the stories. I've already gotten many wonderful stories about fun things you've done on your birthdays. I've also received messages saying you just love quiet times on your birthdays or being with family and friends. And then I have this message from Juanita.
Here's what she wrote. You know she had to be smiling. Or maybe not.
I wouldn't quite call it something "fun" I did for my Birthday – but if suspense is considered fun, then I guess it qualifies. Last year was my 59th Birthday and luckily I was off work that day just puttering around doing only what I wanted to do, all the while trying to guess what my Husband would do for my Birthday this year, as he will either bring flowers, or candy or both on occasion along with a funny card. Well, he arrived home from work on my Birthday empty handed and empty-mouthed (not even saying Happy Birthday, Honey!), but I didn't say a word because he is sneaky sometimes so I thought maybe he left my surprise in the car for a later reveal – or maybe he would send me down to his car to get "something" for him and find my surprise at the same time. The anticipation was growing as the day disappeared into the night yet nothing was revealed and no words were said! Again, I kept silent, anticipation still there but waning. Days went by, weeks went by, October went by – I remained silent (yet starting to steam a little inside). He had remembered our wedding anniversary on September 11th, and brought flowers that night, but I wondered what had happened to his memory of my Birthday! It was made even funnier because several programs we watched on TV that day and many following days made mention of a man forgetting his wife's Birthday – however, the comments just flew right over his head and bounced off the wall. Really, I saw them fly by as I was anxiously anticipating his response as I looked at him intently when those comments were made on TV. Whoosh – there they went! Finally in early November it dawned on him that he had forgotten my Birthday. ( However, it was so "out of the blue" I don't even recall what triggered his memory!) He claims he had pressing job issues on his mind that occupied all his "brain power" causing him to forget my Birthday. Needless to say, I am expecting double rewards this coming birthday as I will be expecting him to double up his efforts to make up for forgetting it completely last year – well, that is, if he even remembers it this year! Time will tell if he remembers or not.   😉
The best way to remember your wife's birthday is to forget it once. ~E. Joseph Cossman
Thanks so much for sharing your story, Juanita. I'm guessing I'm not the only wife out there smiling and remembering a time when some special day was forgotten. But I told Juanita that I would have been telling my husband about it that night or at least the next day. I admired her ability to keep quiet. Could be she should mention her birthday coming up this year, just in case the Cossman quote isn't always true.
Lisa has a birthday dream that sounds pretty good to me. How about you?
The best gift I ever gave myself for my birthday hasn't happened yet, but I hope it does in the coming years. My dream gift would be to book a room at a cozy bed and breakfast and just spend the whole weekend reading. Just me, closed up inside a room – no phone, no tv, no internet access and just spend quiet time reading with no interruptions. Wouldn't that be awesome!!!!
Lisa, I think you should reserve that room this year. I told her a nice quiet room at the Shaker village near where I live sounds like a lovely retreat. Maybe I should try that.
Our birthdays are feathers in the broad wing of time. ~Jean Paul
My Birthday Giveaway is ongoing. To read all the details go to my News & Events Page. And tell me about your birthdays.
Save
Save