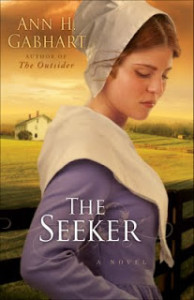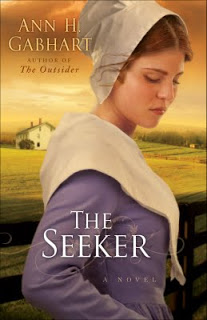 If you're old enough, you might remember when people used to say you couldn't get anything for a nickel anymore? But now it's more like you can't get much for a dollar these days. When I was a kid you could actually get a candy bar for a nickel and a piece of bubblegum or a sucker for a penny. I guess I just told you how old I am.
A lot of people don't even bother leaning down to pick up a penny these days and you see those "take a penny or leave a penny" dishes on store counters everywhere. It's just not worth the bother to count pennies. In fact they say it costs more to make a penny than a penny. So I guess you can't even get a penny for a penny nowadays.
But what you can get is an e-book copy of my third Shaker book, The Seeker. You can download it for 99 cents, a penny short of that dollar, but only for a very limited time. So if you would like to read one of my Shaker books, here's your chance for less than the cost of most soft drinks. Also, Scent of Lilacs, my first Hollyhill book is a free download for a few more days. Click on the titles for the Kindle link, but you can also find them at other e-book sites like Barnes & Noble, Christianbook.com, Kobo, or wherever you shop for e-books. Remember to always check your price before you download since e-book sales come and go quickly.
So since The Seeker is on sale, here's a letter I let the hero write to the heroine. I enjoyed Adam's character. He is an illustrator during the Civil War since that was at the very beginning of photography and most newspapers and magazines depended on artists for their news stories. It was an interesting way to view the history of the war. My editor says she doesn't really like letters or diary entries in books, but I love them. I've used both in my stories. Charlotte and Adam wrote several letters back and forth. It was a great way to include history and to have a connection between them when they were miles apart.
Dear Charlotte,
You won't mind if I don't call you Sister Charlotte, will you? Thinking of you as a Shaker sister will take some time. It appears that how that came to be will remain a puzzle at least for now. Tell me of your life there. It has to be very different from that of a Southern belle, but as I told you at Grayson, even then you were not like most young ladies I have had the pleasure of meeting in drawing rooms across the south.
            I realize you have probably not had time to receive my earlier letter, but this night as I sit in the capital surrounded by a wounded army, I seem to need to put pen to paper again to you. To tell you of the first real battle of the war at a stream called Bull Run near the town of Manassas in Virginia. The Rebels won the day. It appears the Confederates aren't as ready to be beaten as the Union generals had hoped. I have a sketchbook full of the most horrible scenes of war. My pens seemed to be dripping blood on the paper. I will send you a couple of sketches, but you can see more in Harper's if the Shakers read such. And it sounded as if they do if they saw their stairways on those pages.
            Here in Washington the generals will meet and the soldiers will be given new guns to replace those left behind on the field of battle.  The armies will meet again and I must be there to draw more pictures. It is what I do.       
It is good you are in a place where peace can bloom undisturbed like roses in a garden. Tell me of your garden and I will let my hand trace the flowers you see and hope that once the battle smoke clears there will still be flowers to pick in our own personal gardens. 
Yours, Adam  
One More Sunday Winner to Go
Actually two more winners since I'm picking one winner from all the comments made on my posts in August and one winner from the comments on the two posts this week. Deadline for entry is midnight EST on Saturday, August 27, 2016. Winners get their choice of one of my books. I did also send out a newsletter today, so if you've signed up for my newsletter, check your inbox. (Sometimes newsletters land in the spam folder, so if you don't see it in your mailbox you might find it in that other not so nice folder.) I'm giving away some prizes to celebrate another birthday coming my way. If you haven't signed up for my newsletter, you still can. Or just let me know you want to read this one, and I'll send you a copy.
So tell me what can you get for $1.00?