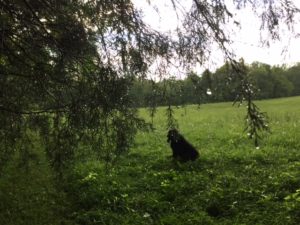 Rain is grace; rain is the sky descending to the earth; without rain, there would be no life. (John Updike)
Here in Kentucky we've been blessed with abundant rain this summer. Every day kind of rain. Steamy like the air has moisture you can almost wring out of it even when the sun is shining and the clouds are holding in their raindrops. Sometimes it rains at the same time the sun shines as though Mother Nature is trying to squeeze in every bit of weather she can before the day is over.
We need rain. I live out here on a farm where if it doesn't rain things begin to look bad. That happened a few years ago when our summer was especially dry. No rain for weeks.  The fields turned brown. The cows had to search for grass. Some farmers had to start feeding hay way earlier than normal. People that make their money mowing yards got a long vacation. That year it was so dry we were asked not to water our yards or gardens. We had to worry about the rivers and reservoirs getting too low to supply enough water to residents.
That's not a problem this year. Plenty of water here although I hear from my Facebook friends in other areas of the USA where they are having one of those dry years when rain clouds are needed and where rain is on all the churches' prayer lists.
Let It Rain
The best thing one can do when it's raining is let it rain. (Henry Wadsworth Longfellow)
Unfortunately, rain is not something we can share. We can't send our extra rain clouds to California. No, the weather comes. We talk about it, but we can't change it.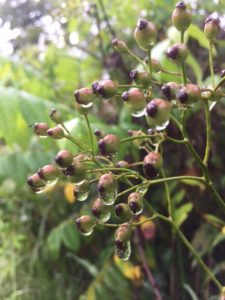 If we could, I might have put a hold on one of the showers today. I looked at my weather app on my phone. It said 30% chance of rain in an hour. Just clouds right then. Plenty of time for me to get in my walk. Oscar tried to tell me. He watched me walk out of the yard down the road toward the hay field where we walk. He didn't come. I waited a few minutes and decided his arthritis was probably bothering him and he had decided to stay in the yard. Unusual, but the hot weather has been hard for him. But when I got to the hay field, there he was coming down the road. I could almost see him sighing and thinking if she's going, I have to go too. So we make our way around the back field and it begins to sprinkle. Hmm. We're a half mile from the house. Then the sprinkle becomes a steady rain. No thunder, so we step under a maple tree. Not bad for five minutes or so, but then the steady rain becomes a downpour and the maple tree umbrella begins to drip. So since we're getting wet either way, I just head the rest of the way around the field. No sense trying to take a shortcut now. I'm not sure Oscar agreed with that thinking either, but he soldiered along with me. It quit raining before we got to the house and somewhere Mother Nature was chuckling at my soaked clothes and hair. And Oscar was saying, I tried to tell you.
More Sunday winners to come in my August Book Giveaway
You still have a chance to win one of my books in my August Book Giveaway. I'll pick a new winner this Sunday. Last Sunday Emily won and since she's already read my books, she had me send Scent of Lilacs to her friend, Julie. Books do make fun gifts. But if you like to e-read, you don't have to win to get Scent of Lilacs. It's still a free download until the end of the month.Here's the Kindle link.
But if you want your name in my drawing hat to have a chance to win an autographed copy of one of my books for yourself or a friend, just leave a comment. Any comment will do, but if you want, you can tell me something you like about rain or don't like.  I enjoyed all your butterfly stories on Sunday's post.
Did you play out in the rain when you were a kid? I did, but I remember it being more fun than I had today walking in the rain. 🙂
As always, thanks for reading.
Save
Save