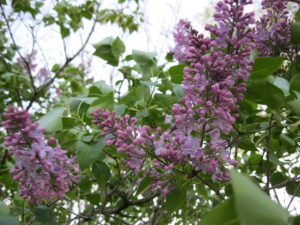 I love lilacs. I know it's not lilac season, but it's the season of free e-books for Scent of Lilacs. It won't last much longer, so tell your reading friends to go get something for nothing. 🙂 And so, since I'm still fighting that deadline on my work in progress – I'm not sure I'm ever going to find those two wonderful words "the end" – I'm sharing a short bit from Scent of Lilacs. I did find the end of that book!
This is where lilacs are first introduced into the story as Jocie's favorite flower scent. Jocie and her dad and Aunt Love are coming home after Jocie's dad gave a trial sermon to see if the church would ask him to be their pastor. David has given his testimony to the church which included how he was called to preach. But Jocie, who loves the story, wants him to tell it again on their drive home. So here goes.
"You've heard it a hundred times, Jocie. You just heard it again tonight."
"You didn't tell the church how it felt. You just told them it happened. You were in a submarine at the  bottom of the ocean. The enemy ships were feeling through the waters to find you so they could blow you up. Your job was to tell where the enemy ships were so you could sneak up on them and blow them up first. It was war. Ships went down. Submarines took hits. People died." Jocie stopped and squeezed her father's shoulder. "I'm glad you didn't."
"Me too," David said. "I did tell it a little bit better than that tonight, didn't I?"
"Oh, yeah. I'm doing a Reader's Digest version." She took a breath and went on. "You were more afraid of getting hit and not being able to get back to the top than of being blown up. One night when the sonar was going crazy, God showed up and let you know he was in control and that he had plans for you back in Hollyhill, so you weren't going to end up shark food."
Aunt Love roused up with a shudder. "Heavenly days, child. You shouldn't talk about your father being shark food."
"I shouldn't, should I? That was awful," Jocie said. "I'm sorry."
"That's okay." David laughe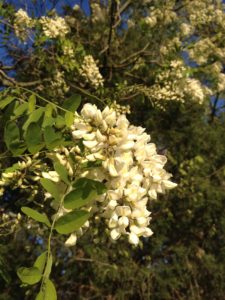 d. "I didn't end up shark food, and the image does give the story a certain dramatic flair. Maybe I'll throw that in the next time I tell the story."
"What did happen first?" Jocie asked.
"I smelled locust blooms."
"Locust blooms?" Jocie said.
"One of the sweetest scents on earth," Aunt Love said.
"Lilacs are better," Jocie said.
~~
And that's where the name of the story showed up first.
This Week's Winner is….
Mary H. is my winner this week. She'll get her choice of one of my books. I've sent Mary an e-mail.  But the giveaway continues. I'll give away another book next Sunday. All you have to do is leave a comment on this post and/or Wednesday's post. Each comment on a new post gets you another entry into the drawing. You must be 18 to enter, but you don't have to buy anything or do anything other than comment to enter.
So how about you tell me which flower you think has the best scent? I've got a gardenia plant this year and those blooms smell pretty good, but what flower tickles your nose in all the right ways?
Save
Save
Save
Save