The picture I posted on Sunday turned out to be more of a mystery than I thought. I actually believed most of you would guess it. You did make some really neat guesses, but nobody got it right. I'm doing the mystery photo "ha ha, tricked you" dance. LOL. I had to use my imagination to see what your imaginations were showing you! Our minds are such amazing things and can come up with the most amazing answers sometimes.
Of course, the popular guess was a tire with a bike tire heading the tire list. That I could imagine. Amy made the guess I expected more of you to make and that was a toy tire, like the tire on a Matchbox car. Marji said tire or a chocolate cake in a bundt pan. Loreta and Melissa both thought it was a cake decorated with chocolate chips. Linda and Margaret said an Oreo cookie. Made me go dip into the grandkids' cookie stash and eat one of those Oreos. 🙂 Mary and Evelyn showed their seamstress backgrounds and said a fabric covered button. That was actually a great guess. Those covered buttons did have a silver back. I actually made my sister's wedding dress and covered about 100 of those little buttons. When I think about doing that when I was seventeen, I can hardly believe it. Or that my sister would have trusted me to do that! We must have both been crazy! Anyway, a fabric covered button could have been what it was, but it wasn't.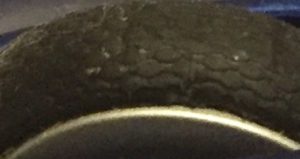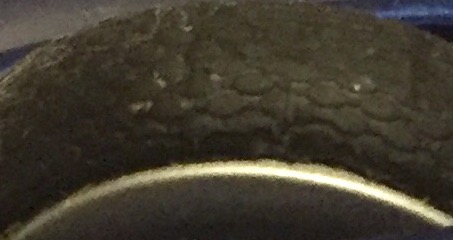 Then Linda thought I knew way more about cars than I do when she guessed a brake pad. Emily's guess of an aerial view of some kind of farm equipment tire was a fun guess. Maybe I should get a drone to take some of my pictures. Betty W. came up with a unique guess of a poodle on a poodle skirt or a crocheted beret. That took real imagination. Sandy was more down to earth with a container with a metal bottom and Paula was fashionable with an ebony wood bracelet.
Karen just said she didn't have a clue. Hey, Karen, I'll let you in on a secret. Nobody had a clue! Well, maybe that's no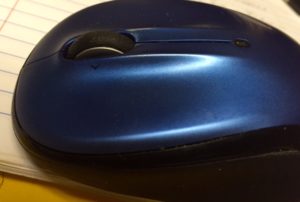 t entirely fair. Those of you who guessed tire did have a bit of a clue. It is a wheel. And it did look like it had tread. Also those of you who thought it looked like it was steaming, well, that was because I tried to clean it off with a tissue and some of the tissue stuck. But here is the rest of the picture. It's the wheel on a mouse.
It's a good thing that right guesses aren't necessary to get your name pitched in the drawing for the books. You all got an entry. If you guessed on the first picture too of the green raspberry, you now have two entries. You can get another entry by guessing on the new mystery photo up top. I have a feeling that this one might be easier for you. We'll see.
Thanks so much for playing my mystery photo game. I'll draw for three winners on June 12th, so that gives us time for this new mystery photo and two more. I still have the one I'm saving that I think nobody could guess. Should I or shouldn't I post it? Maybe. But whether you guess right or not and whether you end up winning a book or not, I hope you're having fun playing the mystery photo game. I'm seeing mysteries everywhere.
Thanks for reading. And if you downloaded Murder at the Courthouse, thanks for that too. It's going to be at a reduced e-book price for a while, but maybe not 99 cents. Also, if you took time to write a review or rate my books, I do appreciate that too. You all are the best! So now about that mystery photo…