You're in for a treat with this post. I've not met Amanda Cabot face to face, but we've become internet friends. So I invited her over to visit One Writer's Journal. As you will find out, Amanda is a writer who gets it right in her stories because of how she researches everything. She shares some of those research techniques with us here. Now, here's Amanda.
The Joys of Hands-On Research

Love it or hate it.  When it comes to research, few authors are neutral.  Either they consider it a necessary but unpleasant part of writing a book or they believe it's one of the most enjoyable aspects of the whole writing process.  I'm firmly in the "love it" camp.
Why?  There are several reasons. One is that I enjoy traveling, and – while there's no denying the value of the Internet – much of my research has involved traveling. More important is the fact that I love learning new things and being able to share what I've learned with readers. And, for me, more often than not, that involves hands-on research.
Let me give you a couple examples. Many years ago when I was writing a story set in the Middle Ages, even though I'd read countless books and studied dozens of pictures, I realized that while I knew what chain mail looked like, I had no idea what it felt like or what sound it made when a knight was wearing it. This may not sound like a reason for writer's block, and it wasn't, but I was stymied. How was I going to describe what my hero felt when he donned his coat of chain mail when I hadn't experienced it? What's an author to do?
A little research revealed that one of the best places to see chain mail and other medieval armor was the Higgins Armory in Worcester, Massachusetts. Yes, it was 200 miles from where I lived at the time, but what are a few hours in the car compared with authentic details?  Besides, I've already told you that I enjoy traveling, so it was no hardship to head to the armory. (Unfortunately, the armory closed in late 2013, but many of the exhibits are now housed at the Worcester Art Museum.)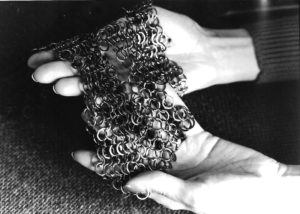 Like most museums, the armory had a firm "do not touch" policy, but they also had a hands-on table where visitors could actually touch chain mail. Of course I did.
There was more to this trip than just the experience of feeling those links of iron that served as the medieval knight's version of Kevlar. One of the docents gave a lecture in which he mentioned the hazards of helmets. Not only did the knights have a very limited field of vision because they were looking through narrow slits, but the helmets themselves retained body heat. Remember the adage, "If your feet are cold, put on a hat."? It's because our heads serve as radiators, dissipating heat. With helmets firmly in place, knights did not lose much body heat. To the contrary. What I discovered that day was that dehydration and heat prostration were as dangerous to a knight as an opponent's sword.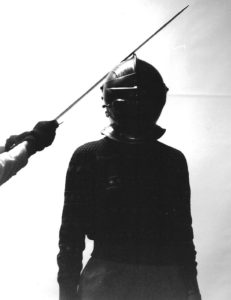 I was fascinated and couldn't wait to share those details with my readers. But before I did that, I wanted to experience wearing a helmet. After the lecture, I stayed behind and asked the docent if I could possibly wear the helmet he'd been using. He agreed.
What an adventure that was! Even though I'd listened to his lecture and knew that I would be hot and could see only a small portion of my surroundings once I buckled on the helmet, actually wearing it was even more confining than I'd expected. I was almost claustrophobic with that iron helmet on my head. And when he tapped my head with the sword that I hadn't been able to see coming because of my limited field of vision, well … Let's just say that my respect for those knights of yore increased exponentially.
My experience with museums has been that I always learn more than I expect. That was true at the armory and again when I caught an incurable case of carousel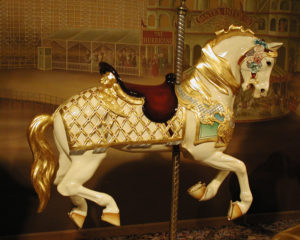 fever and visited the New England Carousel Museum in Bristol, Connecticut. My primary goal was to see some of the most elaborate carousel horses, including some by famous carver Marcus Illions, and I accomplished that.
"One Little Word," my novella in the Sincerely Yours collection, includes details that I learned that day.  But, as they say on those TV infomercials, there's more. One of the other exhibits showed how a horse was carved and pointed out that although the horse may appear to be solid, its middle is actually hollow.  I wish I had Ann's talent for crafting a mystery, because I think it would be fun to have a treasure hidden inside a carousel horse.
Museums are wonderful places to do research, but they're not the only places I go. When I started writing my Texas-set books, I wanted authentic details about the Hill Country. I'd lived in Texas as a young child and had visited the Hill Country several times, but I needed a refresher course if I was going to make those books as realistic as possible. Time to pack a suitcase and load the car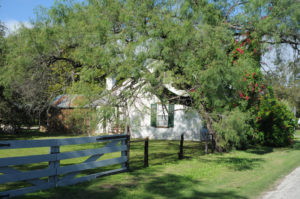 .
The goal of this trip was to experience the countryside, to learn what kinds of plants and trees my characters would encounter, to see whether the air was dry or humid, to listen to the birds – in other words, to immerse myself in the Hill Country itself. Here's one of the scenes I discovered in historic Castroville. Not only was I able to see the type of construction that had been used when the town was founded, but I could see what kinds of grasses and trees the early settlers might have encountered. Mission accomplished! I could now give readers a realistic description of the Hill Country.
Could I have learned all this from a book or from searching the Internet? I doubt it. That's why I'm such a fan of hands-on research. The question is, have I convinced you?
Thanks, Amanda, for a look at how you do research. You've convinced me. I think you need to come research for me! Very impressive! Now here's some information about Amanda's latest release, On Lone Star Trail. You can imagine Amanda with a campfire and marshmallows to get it all just right.
On Lone Star Trail
A woman without a future. A man running from the past.
One enchanting place where broken dreams are mended.
If there's one thing Gillian Hodge never wants to see again, it's a man on a motorcycle. Her last encounter with one left her right hand crushed, ending her promising career as a concert pianist. Unsure about the next phase in her life, she heads to Rainbow's End Resort for some R&R when a sudden thunderstorm causes a motorcycle to crash right in front of her.
When TJ Benjamin's wife died, he lost more than his best friend; he lost his faith. He has spent the past year wandering the country on his motorcycle, trying not to think about the future. When he finds himself stranded with a busted bike and a reluctant rescuer, he has to wonder about God's sense of humor.
As these broken people collide, they find that a bright future is still ahead—it just might not be the one they imagined for themselves.
Amanda Cabot is the bestselling author of more than thirty novels including the Texas Dreams trilogy, the Westward Winds series, the Texas Crossroad trilogy and Christmas Roses. A former director of Information Technology, she has written everything from technical books and articles for IT professionals to mysteries for teenagers and romances for all ages.  Amanda is delighted to now be a fulltime writer of Christian romances, living happily ever after with her husband in Wyoming.
Find out more about Amanda and her books at Amanda's website. Connect with her on Facebook, Twitter, or check out her blog.
Giveaway – Sincerely Yours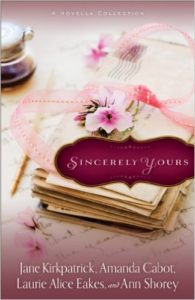 Amanda has graciously offered to give away a print copy of Sincerely Yours, that includes Amanda's story with the carousel horse background. To enter the drawing leave a comment on her post here. For fun, tell us about when and/or if you rode a carousel. The last time I was close to a carousel, I didn't ride on the pretty horses, but I bought tickets for my two granddaughters to ride. They had never been on a merry-go-round. Grammy couldn't let them miss that experience! Deadline for entries is midnight EST May 7, 2016. You must be 18 to enter. USA entrants only.
As always, thanks for reading.