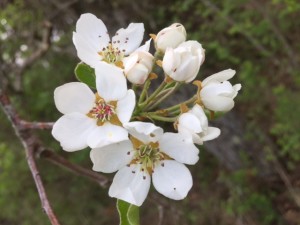 Someone is sitting in the shade today because somebody planted a tree a long time ago. (Warren Buffett)
These are pear blossoms on a tree back in the hay field on our farm. It blooms but never produces any fruit. Several trees like that are scattered here and there in our fields and woods because once another man had a plan to make some money.
My great uncle by marriage bought this farm long before I was born. His name was Will Henry Wiley, but we always called him Uncle Hen. Not sure whose idea that was, but guessing now, when I look back, that it might not have been his. He honestly looked more like an Uncle Will Henry than an Uncle Hen. He was always somewhat reserved. I could share many stories about him, but this post I'll stick to his pear trees.
Uncle Hen and my grandfather bought the farm together and then divided the acres. Uncle Hen got the part that had the house, but he never lived on the farm. Instead somebody bought the house, tore it down and used the materials to build a house in another location. Uncle Hen and my great aunt lived at the family homestead around the road. But my uncle did have plans to make money on this new bit of property he bought. So he planted pear trees. Many pear trees. He thought everybody liked pears. I'm not sure what happened since all this was before my time. Perhaps the Great Depression stole his chances of making money on the pears. Perhaps a drought hit or freezes that kept the trees from bearing. Seems I can remember people saying there simply wasn't a market for the pears. At any rate, my uncle did not get rich selling pears. Instead, after a while, he cut most of the pear trees down and went back to planting corn or mowing hay. When I was a kid, we picked pears off a handful of trees that were left standing. Mom canned many quarts of them for winter eating.
Fast forward a number of years and my husband and I bought the farm from my uncle and built a house here. Three of the pear trees still bloomed and bore fruit. They bloomed this year even though the trees are very old now. But other pear trees that came up from forgotten fruit or the roots of those trees cut down years ago still bloom here and there. No fruit. Only blooms. Pear trees are supposed to bear fruit, but those flowers do brighten up the spring and make me remember that sometimes a person's plans go awry.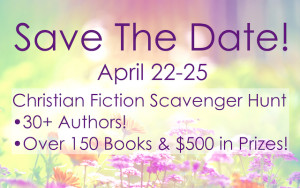 Fun Scavenger Hunt Coming Up Soon
This is going to be fun. And great prizes too for some lucky winners. Over thirty authors will be posting about all sorts of things. I'll host Dr. Richard Mabry on my blog and be a guest on Sibella Giroello's site. Not only will some lucky winners get the great prizes for the Scavenger Hunt – think about getting books from all thirty plus authors in your mailbox – but many of the authors taking part are offering additional prizes on their individual sites. Me too. I will be giving away a Willow Tree "Thank You" figurine and my first Hidden Springs mystery, Murder at the Courthouse. I'll share more information about how to take part in this fun event in the coming weeks, but don't forget to mark your calendar so you can join in the fun.
It's going to be a busy weekend for me because on that Saturday, April 23, I'll be in Bowling Green at the Southern Kentucky Book Fest. If you live in the area, you might enjoy that book event. You can see the list of authors scheduled to be there. They always have great speakers and fun panel talks along with the many authors signing books. If you come, be sure to stop by my book table and say hello.
As always, thanks for reading. And yes, I know it's Thursday. Wednesday somehow slipped by without me noticing last night. 🙂