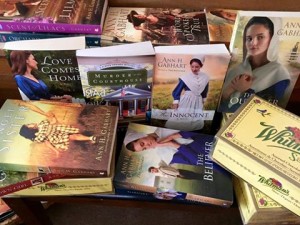 I picked the three winners a while ago. I wish I could send you all a box of candy and a book, but if I had to mail out that many packages, I wouldn't have time to write a new book. I know all of you want me to write that new book, don't you? At least, I want to write it and my editor is expecting me to write it and my agent will be upset if I don't write it. So that's why there are only three winners and then one just because winner. Keep reading to see who gets to eat candy and read a book.
But first let's have a few more stories before we leave February behind. Barbara's story made me smile and I think all you moms will smile too.
Barbara's Worst/Best Valentine Breakfast
My favorite was waking up to breakfast in bed. My daughter, who was 7 at the time, wanted to make me breakfast in bed all by herself. (I had to sneak to the bathroom, she wanted me IN BED.)  She brought up cereal with orange juice (as in, since there wasn't any milk, I poured in orange juice) and pretzels with peanut butter on them. It was the worst/best breakfast ever. She was so proud of herself. And I was so proud that I ate it all! 🙂 That was fun to recount.
Thanks, Barbara, for sharing your worst/best breakfast. One of the fun things about sharing stories like this is remembering special times that you might not have thought about for a while. But some Valentine stories are not exactly about True Love.
Lynn's Surprising Flowers
While it really isn't a "happy" Valentine's story, per se, it really did happen, and I did get a good laugh out of it, well after the fact.
I had been dating this one guy I'd known in High School, when he was dating one of my good friends. (They had broken up after graduation.) Valentine's was coming, and he hadn't said anything about going out for dinner or anything like that, so I just let it pass. (I hadn't dated much in HS, so I wasn't really used to having someone around on Valentine's Day.)
Then one day, the doorbell rang, and when I answered it, there was a delivery guy from a local florist with a long white box in his hands. Inside were a dozen of those deep, dark burgundy roses that smell like red raspberries taste. As I picked them up, preparing to get them into water, a slip of paper fell on the floor. It just happened to be the receipt for my flowers. AND for a dozen of the same red roses he'd had sent to his old girlfriend!!
Needless to say, we broke up soon thereafter, and last I heard, they had married. As far as I know, they still are. I haven't kept up with either of them since that event.
I hope you still enjoyed the roses, Lynn, even if you did find out you weren't the "only one." The florist might not have done the guy a favor forgetting that sales receipt, but maybe he did you a favor.
Robin's Twice Gets the Job Done
32 years ago, my husband proposed to me on valentine's day. I was so surprised, I said "What did you say?" and he proposed again. We still laugh about the fact he had to ask me twice. I just wanted to be sure I heard him correctly.
At least he didn't mind repeating himself, Robin. But sounds like it was a happy ever after proposal.
And the Winners Are…
Finally, right? I've sent the winners e-mails. First is Denise H who has already responded and chose Scent of Lilacs to go with her candy. I've heard from Tammy C. too and she picked The Outsider since she likeds the Shaker stories. Now I'm waiting to hear from Molly F. If I don't hear back from her by Wednesday I'll pick a different winner. I also picked a "just because" winner to get a book and that was Donna M. who told me about reading to her daughter. "I love reading nice books to my 13 year old daughter who is disabled and cannot read herself! We are building memories with each story we read and it is great together time for us too." I wanted them to be able to share one of my stories.
Thanks to all of you who entered and shared stories with me. I always enjoy hearing from you. You're the best. Thanks for reading.