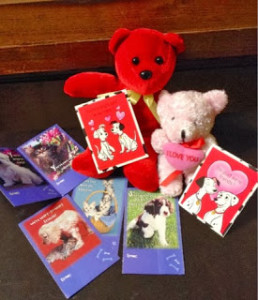 February is drawing to a close and so is heart month. But I've still got some Valentine's stories to share. Some romantic. Some sweet. Some to make you smile.
First the Romance
Several of you shared about Valentine's Day proposals. Here's Leslie's.
My husband, then boyfriend, took me to a fancy restaurant. He said he had to go to the car to get something. He came back with roses. I started crying. A few minutes later a waitress came up to me and handed me a coffee mug with a bear in it. He asked her to give it to me. I took the bear out and there was a velvet box inside the mug. It was an engagement ring. He got down on one knee and asked me to marry him in front of everyone.
Next the Sweet
Maria tells about her loving husband going the extra mile, I mean bouquet, to please her.
A few years ago, my husband had to work extra hours on Valentine's Day. When he came home, he had 3 bouquets of flowers. I was confused, so he started to explain why. He really didn't know which one I'd like the best: one was red with pink (Valentine's Day colors, he said), another one had all different flowers of varying colors (because I like colorful things), & the last one was all purple (because he knows that I love anything that's purple!). He really wanted to make me happy. Little did he realize, just all the thought that he put into the gesture made me smile, & he wouldn't have had to spend any money. He makes every day Valentine's Day for me, because he is always doing sweet, kind things for me. He is so sincere & genuine, with such a big heart. And he always makes me laugh!
And the Smile
Linda shared a story that made me laugh because I could imagine my husband doing the same thing. Here's Linda'a story.
My youngest daughter went with her dad to buy candy for Valentine's Day at a well known home-made candy shop. She said he was so pleased with himself when he found a beautiful "Valentine Box" he liked for around $20.00 that he took up to the counter as my gift. When they asked what chocolates he wanted in it, he told them to fill it up with an assortment of chocolates – and believe me they filled it up. He had his $20.00 out to pay for the gift, but things started to change when they took the box of chocolates over to the scale to weigh. Needless to say, the $20.00 was for the empty box, without the chocolates in it. My daughter said the look on his face was priceless when they told him how much the box was with the chocolates. He had to put the $20 bill back in his wallet and get out his credit card. When I received the gift on Valentine's day (before I knew what happened), I told him how it was the best chocolate I had ever received. Truly delicious!! Of course he told me it should be . . . . We all still laugh about it and although he has asked if I would like more chocolates from this store, I've declined. I don't think I could ever enjoy another box of chocolates from that store as much as I did on that Valentines Day.
Still Time to Enter
You've still got time to throw your name in my giveaway drawing hat for the candy and book prize. I'll pick three winners after the deadline at midnight EST on Saturday, February 27, 2016. See the complete giveaway info on my News & Events Page. As always, thanks for reading.