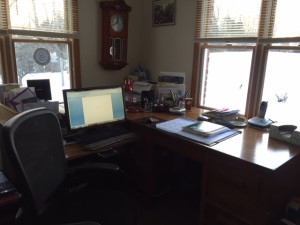 Cleanliness is next to godliness. I've heard that all my life, and the Shakers certainly believed it. That had various sizes and shapes of brooms to get back in every corner and crevase where dirt might hide. As one of my characters said in my last Shaker book, The Innocent, those people warred against dirt. They had a place for everything and expected everything to be in its proper place. Pegs around every wall kept things off the floor so sweeping would be faster and easier. Cabinets were built into every nook and cranny of their houses and an attic had wall to wall chests with the drawers numbered so the Shakers would know what went where.
Unfortunately, I'm not as neat. But I did get my office cleaned last week. I was determined to see if I could find my desktop before I started on a new book. And I did. See, doesn't it look great? I'm still smiling every time I come in here to work. I also moved my desk back to the window instead of having it more in the middle of the room. As you can see I have wonderful windows to look out at the world while I'm working. You might note on my Home page here on my website, the bit that says my favorite room is one with windows.
Oscar's Week to Shine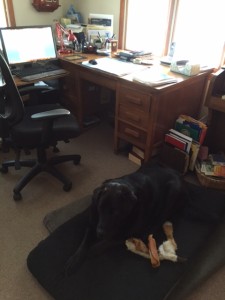 I'm glad so many of you enjoyed reading about Oscar on Sunday's post. It is his week to shine since he's also the star of my guest post on Quid Pro Quills' feature Animals & Authors.  One of the questions there is what three things both Oscar and I like. At first I wondered what in the world I would come up with to answer that, but then after I thought about it, I thought of several things we both liked. They also asked me if I'd ever written about Oscar in any of my books. You can hop over there and read the answers. But here you can see that Oscar is very relieved I've stopped cleaning. He's not a fan of vacuum cleaners or things being moved about, especially his beds. Remember, all those odd quirks he has.
Newsletter
I sent out a newsletter on Valentine's Day but February is heart month, so we can keep thinking about love and more a little longer. If you didn't get my newsletter and would like to, it's easy to sign up here on my website. Plus, here's a link to Sunday's Valentine's Day newsletter if you'd like to read it. I've got a February giveaway in it. Most of my newsletter have giveaways. Three winners will win a box of candy and their choice of one of my books. The deadline to enter is February 27 at midnight EST and you must be 18 years old to enter. For fun, some of those entering have been sharing about Valentine's fun or a special gift. Sunday, I plan to share an inspiring post from one of my readers that might make you look at Valentine's Day a little differently.
A Valentine of Enduring Love

I've been getting some sweet stories. But here's one from John about his favorite Valentine's gift that I just had to share with you.
My favorite Valentine's gift
Is my beloved wife,
Who, for over forty years,
With LOVE has blessed my life.
Thanks for reading, and if you have a Valentine story or a favorite Valentine gift, I'd love to hear it. Your stories always make me smile or touch my heart and sometimes both.