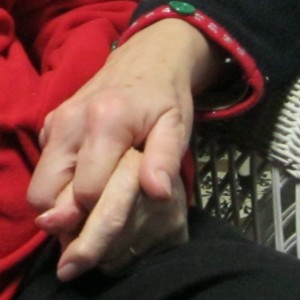 There are things we don't want to happen, but have to accept; things we don't want to know, but have to learn, and people we can't live without, but have to let go. (Jennifer Jareau, a fictional character from the show Criminal Minds)
At Christmas time we want everything to be happy. We say Merry Christmas and we mean it. Joy to the world and we rejoice in the greatest gift – Jesus. We gather with family and friends. We give and get gifts. Many of you have shared your stories of favorite gifts. But sometimes Christmas comes and it's hard to feel any of the merry. We've had several terrible things happen in our area in the last few weeks. A young father killed in a car wreck. A mother of three shot and killed in a domestic violence incident. A young boy murdered by an intruder into this house.  Sad things. Tragic happenings. Sorrowful times.
When Sandi sent me her story, I hesitated to post it here. Christmas should be all smiles. But in truth, Christmas is not always all smiles for us. Economic problems can dampen the joy. Losing someone you love can cast a shadow over Christmas. That first Christmas after a loved one dies always seems to hold an especially deep well of sadness. And while we know Jesus is the Reason for the season and that if we're weeping, He's walking alongside us offering us a shoulder to cry on, an arm to lean on and sometimes picking us up and carrying us, the sorrow is still there.
Another happening that can leave a huge residue of sorrow is suicide. That's what Sandi's story tells. Here it is.
Being rather old (69) I have many many Christmas memories, most of them good. But, the Christmas that speaks to me the most is the one following my mother's death. People don't like to speak of suicide and it is difficult to admit that someone you love, chose death to being here in this life. There were eight children in our family and I credit both Mom and Dad for teaching us to love the Lord and to be good, kind people, but it was Mom who made certain that we had clean clothes for church and guided us every day. As she got older, she relied, heavily, on drugs to control a medical problem that she'd developed later in life. Those drugs caused her to lose her way and after many years of struggle, she chose to end it–for all of us.
My mom was the epitome of Santa Claus. She "made" Christmas for us as children and even as adults she made certain each family had a special something under the tree. She taught us to sing and we'd go to "The County Home" (and other places) to perform on Christmas Eve. The Partridge Family had nothing on us! She never made "a" pie, she made eight. Christmas cookies would be cooling on every surface in the kitchen and nothing seemed to make her happier than to watch our excited faces on Christmas morning.
I was 35 years old, with a husband and three children, when I got the phone call, in September, the day before her birthday, that she had "overdosed.' She died three days later.
I went through all the stages of grief with one added–guilt. If I had been the daughter I should have been, she'd have stayed, wouldn't she have?! And then…Christmas came. Songs made me cry, smells reminded me of her and I cried some more. And then one day it was as though God spoke to me, and said, "Child, she was mine before she was yours and I allowed her to come Home." I realized that neither her life nor her death was in my hands. I admit that I still cried…I do to this day, but it's not the horrible grief and guilt that I carried for far too long. Her name was "Grace." And she was truly "Amazing Grace."
Thanks, Sandi, for sharing your story. I lost a beloved aunt to suicide so I know the pain and guilt that can follow such a death. I told her story here last year. If you'd like to read it, here's the link. In that post I also include some heartrending statistics about suicide.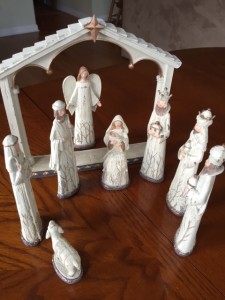 Tuesday (December 15 at midnight EST) is the last day to enter my Christmas giveaway. I wanted to have time to get the prize, (the Nativity Set) to the winner before Christmas. You can read about the prizes on my News & Events Page. I'll contact the winners via e-mail and post the winners here on Wednesday. But if you haven't entered yet, you still have time.  A comment here will get you an entry.
And please pray for those who may be having trouble feeling the joy of Christmas this year.
"Peace I leave with you, My peace I give to you; not as the world gives do I give to you. Let not your heart be troubled, neither let it be afraid." …John 14:17 (NKJ)