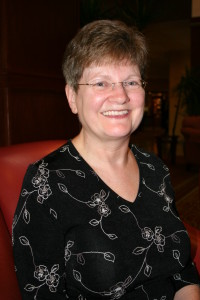 Tonight I've turned my blog over to Rose Allen McCauley to bring you a little early Christmas spirit. Rose has plenty to give. She is one of the most generous people you are ever likely to meet. She's been writing for over ten years and has four books out now. Christmas books are her favorites, so she is happy to have one of her stories included in a new Christmas novella collection. A retired schoolteacher who has been happily married to her college sweetheart for over 40 years, she is also mother to three grown children and their spouses and grandmother to five lovely, lively kids! So let's see what Rose has to say about Christmas stories.
Christmas Books by Rose Allen McCauley
I love Christmas, and I love Christmas books! I also collect Christmas books. Three of my four published books are set during Christmas, and my latest book which will be released next July will have the couple getting engaged to be married at a Christmas wedding.
As a Christian, Christmas and Easter are my favorite holidays since they celebrate the death and resurrection of Christ. I love the Christmas story in Matthew 1 and Luke 2. So, it is no wonder I like to write about the Christmas season and read Christmas stories the whole month of December. At present I have 66 Christmas books on my shelves, and several of them have multiple stories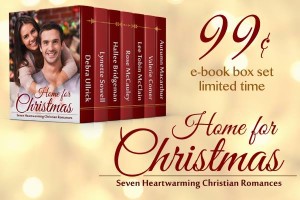 in each book.
Thanks, Ann, for letting me share a collection that includes one of my novellas this Christmas—the Home for Christmas eBook collection with books by myself and 6 other authors—Hallee Bridgeman, Valerie Comer, Lee Tobin McClain, Autumn Macarthur, Lynette Sowell, and Debra Ullrick. All seven books for only 99 cents on Amazon Kindle.
My novella in that collection came out last year, so a few of you may have already read it, but this collection is still a bargain even if only 5 or 6 of the books are new to you. And I know many people like to read favorite Christmas books over again each year! You can read the blurbs for all seven books on Amazon.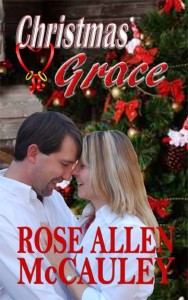 Here's the blurb and cover for Christmas Grace:
Grace Buchanan and Chris Fisher were best friends for sixteen years…until he fell in love with her other best friend, Terrie. Chris and Terrie married after high school, then she died three years later. A renewed friendship soon awakens stronger feelings in Grace and Chris. Can they both let go of the past long enough to claim the future God has for them?
I hope you will order the collection for many hours of Christmas reading fun, and for those who do not have a Kindle, you can order my book Christmas Grace also in paperback, since some people still prefer a book in hand. My first Christmas novella collection Christmas Belles of Georgia, is still available on Amazon also!
Thanks again for letting me share, Ann, and I hope your readers will visit my blog this Friday, November 20th at www.rosemccauley.com to read a guest blog by you. I always enjoy Ann's visits and her books!
E-Book Giveaway – What's your favorite Christmas tradition?
To be entered in the giveaway of an eBook copy of the entire Home for Christmas collection, leave a comment about your favorite Christmas tradition. Deadline to enter is midnight EST Tuesday, November 24, 2015. Happy Christmas reading, everyone!
Thanks for Reading!
So glad to have Rose stop by One Writer's Journal to share about her Christmas books. And as she said, I will be visiting her place on Friday. Come on over to Rose's place to read about "Hunting 'The End.'" The post won't be about Christmas. I'm still in denial that Christmas is only weeks away!! Maybe I need to read some Christmas novels. I will be in the giveaway spirit and will give away one of my books to someone who comments on my guest post on Rose's site. Winner's choice. You might even pick my one Christmas novel, Christmas at Harmony Hill. So hope you'll hop over to her site on Friday to read all about it.