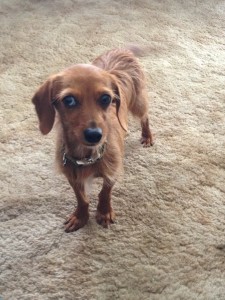 It's taken me a few weeks before I could write about sweet dog, Amber. Even now it makes me sad that the little dog's life ended too soon. My granddaughter got Amber for her birthday a few years ago. She was a rescue dog. A miniature wire-haired dachshund. Maybe full bred. Maybe with a little something else mixed in. She was a ball of energy in a small package. My granddaughter loved her and she loved my granddaughter.
Amber did have a few problems. She was hard to house train. She had bad breath due to something messed up about one of her teeth, and she had an odd odor even for a dog. Once she ate something she shouldn't and ended up having to have surgery. After that she had to eat canned food, but since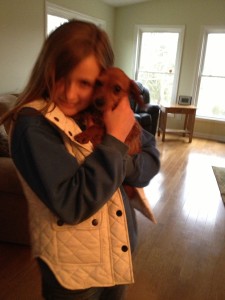 she was a little thing, that wasn't much of a problem. My granddaughter took care of her. Fed her. Slept with her. Took her out when she needed to go out. Cleaned up Amber's messes.
Little dogs like this seem to be one person dogs, but if my granddaughter was her number one person, I was her number two person. She would go crazy every time I visited until I picked her up. And so a lot of time when I was at her house, I was carrying around a little dachshund. The rest of the time, Amber would be scurrying after me waiting for me to give her attention. I got very attached to this sweet little dog and often kept her when my son's family needed a dog sitter. She would sleep on a pillow in my office right there beside Oscar while I was working.
Others in the extende
d family weren't as fond of Amber and not as ready to welcome Amber into their houses. So, this summer when we went on a family vacation, we had to take Amber with us. She loved walking on the beach as long as you didn't get close to those pesky waves. She was not a water dog. But she did get up early and walk a couple of miles with me at sunrise. Well, she walked most of the time. Sometimes she got a lift. She had a good time at the beach.
Dachshunds always seem ready to sniff out new trails. That along with her tiny size made it hard to keep her in my son's fenced in backyard. She stayed inside the house most of the time, but sometimes she'd be outside and find a way to escape the fence. Then my son or granddaughter would go after her and bring her home. But a couple of weeks ago, she seemed more determined than usual to get out. They thought they had blocked all her holes and had left her out while they were cleaning the house. But she found a way out, and this time when they went after her, she didn't come to them as she usually did but instead ran in front of a car. My son and grand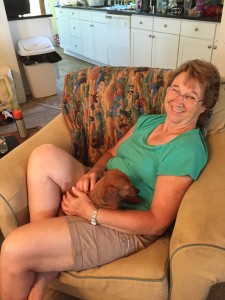 daughter watched in horror as she got hit. They were taking her to a vet when she died in my granddaughter's lap. Sad times.
I've had to say goodbye to several good dogs. Most after they'd lived a long dog life which often isn't long enough for those of us who love our furry friends. Then some others have passed too soon. This same family lost a good dog to cancer when he was about the same age as Amber. I wrote about Coal here then. He was one of those especially good dogs too. And now I've said goodbye to sweet dog Amber.
I'm sure those of you who are dog or cat lovers have had to say goodbye to some sweet furry friends before you were ready too.
This is t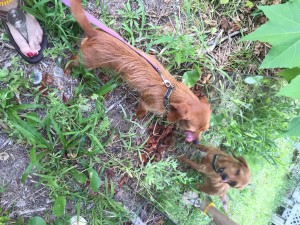 he quote I found when I wrote about Coal.
"It came to me that every time I lose a dog they take a piece of my heart with them. And every new dog who comes into my life gifts me with a piece of their heart. If I live long enough, all the components of my heart will be dog, and I will become as generous and loving as they are." –Unknown