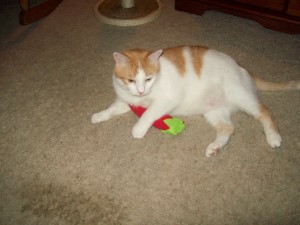 I'm still getting cat stories. Yay! Love it when readers like you share stories with me. I get to rest my brain and you get to let your cats shine here. Remember, you can join in my giveaway fun celebrating my upcoming release, Murder at the Courthouse, by sending me a note from the contact tab. See all the info and the prizes here.
It's been fun getting all the different types of stories. Tonight, I'm sharing a couple of stories about cats that came from cat rescue places. Their rescue was just in time for their new owners!! First meet Ellie Mae, Heather's "angel" cat. Here's her story.
I love cats and books. I'll tell a story about my current cat. I swear there are wings hidden under her fur. Her name is Ellie Mae. Mae is for my Grandma whom I loved and is now with Jesus. Anyway, Ellie is a rescue cat. I got her when she was 4 and 1/2. Her family moved and she ended up in a rescue for 6 months! We are now approaching our 4 year anniversary of being together. Anyway, I lost my father this July 30th. Ellie is such a good kitty. The morning after Dad was gone she got right up on my stomach when I was lying in bed and purred. This is unusual for her. She will lie on my lap when I'm sitting up but will hardly ever get on me when I'm lying down. She knew I was sad. She is always doing something to take care of me. I've had two other kitties in my life that I am sure were picked out for me by God himself and sent to me as little furry angels. Both were comforting to me at trying times.
So sorry for your loss, Heather. It's hard to say goodbye to our dads and moms. But I think you're right that the Lord does know when we need a bit of extra comfort. Plus, He did make cats with all their peculiarities and one of a kind personalities that He knew would be just right for cat lovers. He found the right cat for you to rescue!
Kathleen also decided on a rescue cat when she wanted a new cat companion. Doesn't her new friend look regal in this picture? Here is Kathleen telling us Jessa's story.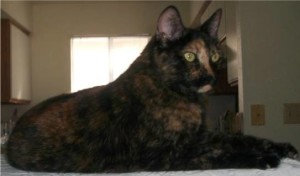 I told the Cat Rescue folks that I wanted to adopt a hard to place cat and that is how I met my precious Jessa, who is a tortoiseshell cat. Her person had recently gone into assisted living and the husband gave the cat up for adoption. Jessa had a rough time transitioning to a new home and acted out some. I am retired and home a lot and this helped. At first she howled whenever I took a shower, her former owner must have fallen or had a medical emergency in the tub. She slept on top of me for months, I think so I could not leave without her knowing. For the first year she almost always stayed in the same room sitting near me until she finally felt comfortable enough to nap in her special places and properly ignore me (at times). She is not a lapcat or cuddler, although she tolerates a hug now and then, sometimes with loud purrs. I am so blessed to have Jessa in my life and home, we rescued each other. She is an extraordinary being and teacher, kind, loving, persnickety, demanding, bossy, energetically sensitive, a talker with a large vocabulary and a good companion. Jessa is very smart and understands (or acknowledges understanding) like no other cat I have met. I love her dearly and hope that she dies before me so she doesn't have to adapt to another new owner.
What a sweet story, Kathleen! Thanks for sharing it with us. I hope you and Jessa have many more happy years together.
Remember, it's not too late to share your cat story and throw your name in my giveaway hat for a chance to win my "catrific" prizes and some books.
Thanks for reading.