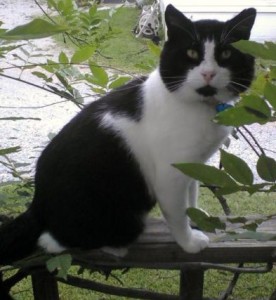 If you got my newsletter last week, then you won't be surprised that I have cat stories and more cat stories now. I'm having a New Book Celebration Giveaway for Murder at the Courthouse along with celebrating my upcoming birthday as well. Those birthdays speed up on me these days. When I was kid and waiting for my aunt, who was like a grandma to me, to show up with my presents and cake, the day was about as long as a year is now. LOL. Of course, I was a good deal more anxious to add on a year in those days. Oh, to be older when you're a kid. Oh, to be younger when you're way past kid age the way I am now.
Anyway, I decided to have cat prizes to celebrate my first mystery. That's because one thing often shows up in a cozy mystery – that is, besides a dead body or two – and that's a cat! To enter just send me an e-mail either from my contact page here on my website or at annhgabhart(at)hughes(dot)net. You can also leave a comment on a blog post before the end of September to enter, but if you do that, you must leave an e-mail address or another way to contact you. You can see the contest details and prizes on my News & Events Page.
I invited those entering to share a cat story with me. Not necessary to enter, but fun. And the stories coming in are fun! Here's the very first one I received from Mary. It's an amazing proof of how animals sometimes communicate. Mary's cat, Sparky is in the top photo and with a new dog friend in the bottom picture. Dandy is in the middle photo.
The Seeing-Eye Cat by Mary Jolly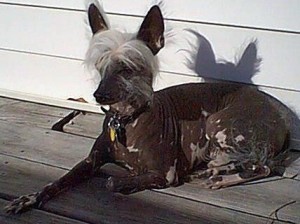 I have an 18 pound, 12 yr old cat name Sparky. I rescued him as a kitten from a local kill shelter in 2003. He loves his Dog and Cat siblings very much though skittish of people other then my husband and I.
I had a Chinese crested dog name Dandy that I rescued in 2003 also. He lived in a cage all of his life in a puppy mill until we got him at the age of 8 years old. As soon as we brought Sparky home in April 2003, Dandy adopted him as his cat. When Dandy became blind a few years later Sparky would always be near him outside. If Dandy came into a room Sparky would go up to him and rub against him as if to say " I am here and you are OK." Sparky would then lay next to him until Dandy got up. When Dandy was outside, Sparky would follow him around and keep near him at all times. When Dandy would lay in the bed, you would find Sparky lying in the outside of the bed next to him so he would not fall off the bed.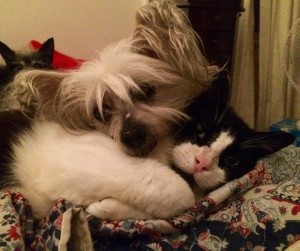 Dandy passed away in October 2011 at the age of 16 yrs. We buried him in our backyard under the Palm trees he enjoyed being under when he was alive. You could find Sparky lying on his grave site at times. Since then we have moved from that home. Sparky is still with us and you can still find him curled up to one of our other dogs– all rescues, of course. He also likes his cat siblings too. He lets the other doggies lick him, lay next to him and play with him but that bond is not there like the one he had with Dandy.
Thanks, Mary, for sharing about your sweet cat, Sparky. I've read about dogs that acted as a seeing-eye friend for other dogs, but this is the first time I've read about a cat helping a dog. No dog and cat animosity there.
I'll be sharing more cat stories in the days ahead. As you might guess when we're talking about cats, some of the stories make you smile.  Thanks for reading.