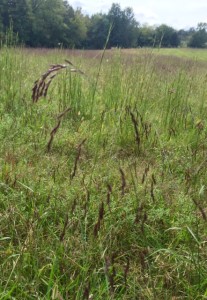 Those of you who keep up with what goes on at my Facebook page know I'm always posting pictures of flowers I spot on my walks and other places. This summer I took the challenge of finding a new and different yellow flower to post every day. I made it for 31 consecutive days, only bending the rules a bit now and again to include the yellow center of a flower like a daisy and once I posted a yellow butterfly. But butterflies are almost flowers, right?
Recently, one of my reading friends threw down a new challenge about purple flowers after I posted a picture of purple mistflowers that are plentiful in our hay field. And so I began seeing purple flowers everywhere. One I had never noticed before at the edge of our hay field, but when I put the picture on FB, a friend came up with its name, Florida Blue Lettuce. I added flower number 8 today. Not a wildflower but a purple zinnia from our garden and discovered a lot of zinnia fans. They are cheerful flowers and butterflies love them.
The same as it was when I was keeping an eye out for yellow flowers and started seeing yellow blooms everywhere, now I'm seeing purple. Even in the grass. When I looked this grass up I found it had the very sensible name, Purple Top Grass. But some farmers in this area call it greasy grass because of how slick it feels.
The cows out here on the farm do eat it, but it's not exactly their favorite. And seeing it in the hay field brought back a memory of a farmer friend and neighbor. Before my husband bought his own baler, John would come and bale his hay for him for so much a bale. One time, years ago, my husband went on a business trip after he mowed one of the hay fields. Our oldest son, probably around fifteen or sixteen at the time, was given the job of raking it to have it ready when John came with the baler. Well, if there's one thing sure about farm machinery it's that it will breakdown at the most inconvenient times. So the hay rake had some sort of problem. I don't remember exactly what, but my son and I weren't making much headway fixing it by the time John arrived to bale the hay that wasn't raked and ready. He was a tall man, several inches over six foot and slim but with broad shoulders and big hands. He helped us jimmy-rig (that's what he called it) the rake. Then he looked at the hay and said "greasy grass" (purple top grass) didn't make great hay but the cows would eat it when the snow flew.
I shared that memory with John's daughter last week. My husband was with me and said he didn't remember that, but he did remember how John always sang when he was on the tractor. That you would see him going down the road singing at the top of his lungs. No ear buds and portable radios for him. He carried his own music in his head and heart and was ready to belt it out to the tune of the tractor tires. His daughter laughed as she remembered his singing too. And I thought, you know that's not a bad memory for people to have about a person. Someone with a song, ready to share it with the world.
A neighborhood of farmers is a good place to live.
Do you sing when you're working?
I'm sending out a newsletter with a new contest giveaway, so if you're not on my newsletter list, now is a good time to sign up.