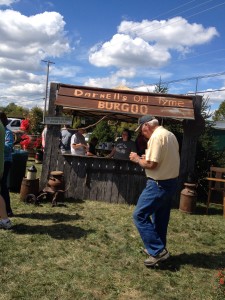 Do you have a Fall Festival in your town? Here in Kentucky every small town seems to have a festival in the months of September and October. Makes for busy Saturdays in those towns. Our town, Lawrenceburg, has an Anderson County Burgoo Festival. Nobody makes burgoo quite like one of our families here in the county and so the town leaders decided to proclaim our county the "Burgoo Capital of the World" and make a whole weekend of fun around the burgoo pot. That happens the last weekend of September.
Perhaps one of the first "festivals" was Mt. Sterling Court Days. People have been buying, trading and selling there on the 3rd Monday in October since 1794. Now it starts on the Friday before and ends on the Monday. Crowds of people from everywhere take in Court Days, but even though I'm right here in KY, I've never been. That's still going strong so maybe I'll make it someday.
I have been to the Cave Run Storytelling Festival in Morehead, Kentucky. This year is their 17th year and alas, I've only made it there one time. I love storytelling and I had a great time when I went. It just seems that is always the busiest weekend of the year for me. But one of these years, I'm going to be back sitting in their chairs, listening to some great stories. Each year I think how great it would be to take my grandkids, some of whom love storytelling too. Some families make it a regular reunion weekend at the Festival.
There are about a zillion other festivals around and you can read about most of them on the internet at sites like Kentucky Tourism.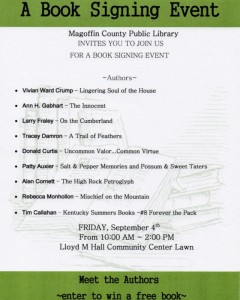 The reason I'm talking festivals is that I'm going to one tomorrow, Friday, September 4, 2015. The Magoffin County Heritage Festival. The library there is sponsoring a book signing tent. The local newspaper got my name wrong, but maybe people will stop by to see Ann Gilbert/Gabhart. If you're in the area, I hope you will be one of those stopping by to say hello. Promises to be a HOT day, but books don't melt in the summer heat. Sometimes they can take you away to a cool place to be refreshed.
Does your town have a fall festival? Do you like going to festivals?
I'm sending out a newsletter this week. If you're not on my e-mail list, be sure to sign up and be one of the first to hear about my new birthday/new book celebration giveaway. I'll be having some fun contests here too as I get ready to launch my new mystery, Murder at the Courthouse, that releases on October 6th. I'll be doing a book talk and signing on that very day, Tuesday Oct. 6 at 7 p.m. at JosephBeth's Booksellers in Lexington, Kentucky with my friend, Virginia Smith who also has a new book that has been getting great reviews, The Most Famous Illegal Goose Creek Parade. Hope if you are in the Lexington area, you'll come out and join the fun that night.