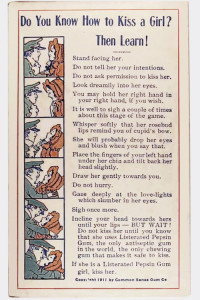 "What is a kiss? Why this, as some approve: The sure sweet cement, glue, and lime of love." (Robert Herrick)
Romance – what would life be without it? And what would romance be without a kiss? Here's some rules for kissing from the early nineteen hundreds with a reason for a smile when you read to the end of the list. I doubt many romantic heroes in today's stories would be quite so formal in their kissing etiquette. But then as now readers were ready to sigh and savor those long awaited kisses between the characters in their books.
My stories always have a thread of romance. Sometimes the romantic part of the story is the strongest thread as it was in Words Spoken True. Other times, the romance is a sweet secondary thread. Important, but not necessarily what carries the entire story that might be more historical in nature or, as in my upcoming mystery, more of a who done it story rather than a will she or won't she fall in love story.
But it's good to let romance have a little of the story limelight. We like reading about romance. We like witnessing two people falling in love. Of course, a few obstacles along the way makes the journey to a happy ending more interesting. I like happy endings. And I like romance in my characters' lives.
I want that first kiss between my characters to make my readers sigh and think, at last. Oh, those wonderful first kisses. Or near kisses. Sometimes my characters get oh, so close only to have the opportunity slip away as in this scene from my Shaker book, The Gifted.
So for fun, here's that scene between Jessamine, my innocent Shaker sister with her overwhelming curiosity of things outside the Shaker village and Tristan, the young man of the world who has been found with a broken arm and is convalescing in the Shaker village. I wanted the kissing scene to promise romance.
~~
"You look the picture of innocence to me. A beautiful picture of innocence." Without thinking about what he was doing, Tristan stepped closer to her. "And you smell of roses."
"I suppose when one is in a rose garden all day it is only natural to carry away the sweet scent."
"You were in a rose garden all day?"
"Picking the petals for our rosewater." She sniffed her fingers and then held her hand up to his nose. "Next week I may smell of lye soap from the washhouse or perhaps onions from the gardens."
She laughed, her worries of a moment ago apparently forgotten. The sound wound around him like a silken thread that he didn't want to break.
When she started to pull her hand away, he caught it and sniffed her fingers once more. "On you those might be as fragrant as roses." Her hand in his was small but sturdy, her nails cut bluntly across and scratches from the roses marking her fingers.
"Oh my," she whispered, but she didn't try to pull her hand from his. "Sister Sophrena was right."
"About what?" He looked straight into her blue eyes.
"About how wondering about worldly things can be like stepping into the middle of a whirlwind. It can make your head spin."
"What worldly thing are you wondering about that has your head spinning?" He turned loose of her hand and brushed his fingers against her cheek. Her skin was enticingly soft.
Her eyes opened wide at his touch, but she didn't step away. She moistened her lips before she answered, "It is too sinful to speak aloud."
"Are you wondering about how it would feel to be kissed?" He let his finger stray down to her lips. His own lips tingled with the desire to pull her close and drop his mouth down to hers. He could almost taste the rose sweetness of her.
"I know nothing of kissing." Her words were a bare whisper of breath as she stared up at him.
"But you want to know."
She made no answer, but she didn't move away. He let his hand drift down to her shoulder and was pulling her closer to him when the bell on top of the house began to toll. As though awakening from a trance, she pulled in a sharp breath and jerked away from him.
"Nay," she said softly, and then a little harsher. "Nay."
She whirled away from him and ran out of the garden.
~~
Ah, romance. Whether one follows the rules or makes up one's own rules, that first kiss is most important as the quote below says.
"The decision to kiss for the first time is the most crucial in any love story. It changes the relationship of two people much more strongly than even the final surrender; because this kiss already has within it that surrender." (Emil Ludwig)
Thanks for reading. I'm trying to think up a contest for my birthday month and upcoming mystery release. Newsletter recipients will be the first to get the news, so sign up today.