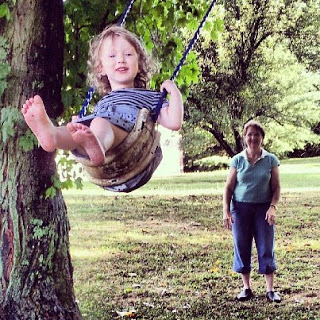 It's time to enjoy those great summer days with the kids and with my reading friends.
And the Winners Are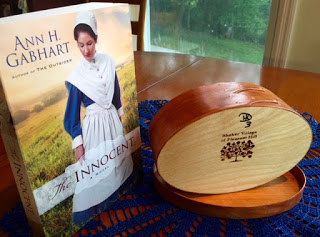 I usually make you wade though whatever I post here and get to the bottom of the page before I announce the winners, but this time I'm letting you know right off the bat. First place winner is Diana J In Maine. She says she never wins anything, but now she has. She gets the lovely Shaker box and chose The Innocent.
I haven't heard from the second place winner yet, but it's John D. He wins the Bread and Bun Warmer decorated with the Shaker Tree of Life and his choice of one of my books. Then, most of the time when I do a giveaway, I pick a "just because" winner to win one of my books. So I did that this time and Peggy C. is my just because winner this time. If I don't hear from John or Peggy by Wednesday, I'll draw another name.
Thanks to all of you who joined in with my giveaway fun. I loved your summer stories and I'll be sharing more soon. It was also fun reading some of your favorite things about summer. Tomatoes out of the garden, visits with grandparents, swimming, reading in a hammock, just enjoying the day.
Here's what one of you said. Bjm probably spoke for a lot of us on this one about her grandmother.
"Many years ago when I was a young girl I would go stay with my
Grandmother at her river cottage. My Grandma was and still is my very favorite
person. She hunted, fished etc. I remember so many young people coming to see
her every weekend. She was so well liked by them. I could go on and on about her
and all the fun and quality time I had with my favorite person.The sad thing is
I don't think I ever told her that."
Well, on second thought I couldn't say my aunt who was like a grandmother to me went hunting, but I do have great memories of time spent with her.

Busy Summer Days
Summertime is such a busy time. Even though my children grew up years ago, married and have their own families, summer still seems to fill up with dozens of things to do. Vacations. Grandkid visits. Flowers to plant. Vegetables to gather and cook. Oscar to give a bath after he gets hot and sits down in the cow's pond. That happened today when the grandkids came out and we took a long walk. I forgot to guide Oscar around the pond. He was not a happy dog when he had to suffer through a hose down. Then halfway through, he gave a mighty shake. So guess who else got wet?
Let's Talk Shakers
One of the reasons I have busy summers is that I've had a new book come out in July the last few years. Sometimes I have a deadline to finish writing a new book too. Both things are good – very good, but it keeps me hopping in June and July. With the new book, I have blogs to visit to try to get the word out about the new story. (You can watch for notice of some of these on my Facebook page this month to give you more chances to win a book.) Then I have my own celebration contests like the one I just finished up to share the fun with you, my reading friends.
And next Sunday I'll have my Hometown Book Launch at my town's library. I started having book talks to celebrate a new book when Scent of Lilacs came out in 2005. I've kept up the tradition with each new book since then. So if you're in the area, come on down to the library next Sunday afternoon and we'll talk new books and Shakers. You might win a door prizes and for sure you can snag some chocolate. I will be signing books after my talk and a Q & A session. We usually have fun.
That Announcement I Promised
I jumped the gun when I promised a surprise announcement this post. I'm going to have to wait until later in the week for that. But soon. Maybe I'll give away another book or something to make the wait worth it.
As always, thanks for reading.