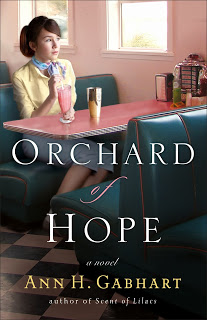 Chosen as a Notable Book by Christianfiction.blogspot.com 2007.
The smoldering embers of unrest are stirring--and even Jocie's sweet spirit can't put them out.
About the Book
Nothing will be the same after the summer drought of 1964.
Drought has gripped the quiet Kentucky town of Hollyhill, and the town seems as if it is holding its breath – waiting. Jocie Brooke is nervous about starting high school. Her sister Tabitha is experiencing the weariness of waiting for a new baby. Orchard of HopeHer father David is feeling the timidity of those first steps toward true love. All of these pivotal steps in life are awaiting the Brooke family.
Into this cloud of tense anticipation, the Hearndons move their family from Chicago to plant an orchard outside of town. Fresh off the Freedom Train, Myra Hearndon is sensitive to what the color of her skin may mean in a Southern town. Her family will have to contend with more than the dry ground and blazing sun as they try to create their orchard of hope.
In this close-knit community, everything is about to change.
Let this riveting novel take you along to experience unexpected love, new life, and renewed faith amid life's trials.
Reading Group Guide for Orchard of Hope
Save
Save
Other Books in "The Heart of Hollyhill Series"
Disclosure of Material Connection: Some of the links in the page above are "affiliate links." This means if you click on the link and purchase the item, I will receive an affiliate commission. I am disclosing this in accordance with the Federal Trade Commission's
16 CFR, Part 255
: "Guides Concerning the Use of Endorsements and Testimonials in Advertising."