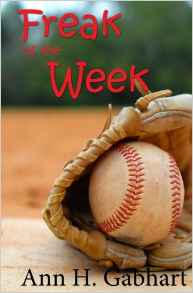 When popular girl Nikki starts making fun of Clay at school, he has to find a way to stop the bullying.
About the Book
What did Mrs. Rooks mean? That his leg wasn't his problem? What did she know? She wasn't lopsided with one leg shorter than the other. She wasn't a freak.
Clay Ashby has a little problem. He limps. That makes him feel like a lopsided giraffe especially after Nikki Hendricks, the most popular girl in sixth grade, starts making up rhymes about his limp that has the other kids laughing at him. But then he meets up with an old man trying the impossible in spite of disabilities ten times worse than Clay's. When Clay joins a baseball team, Old Dan helps Clay believe in his abilities and shows him heart matters more than looks. But Nikki, on the team that always wins, is still ready with her rhymes. Will a ballgame for the championship settle it all?
"…a great read for middle school age students and for adults as well!" ~ Amazon Reviewer
Disclosure of Material Connection: Some of the links in the page above are "affiliate links." This means if you click on the link and purchase the item, I will receive an affiliate commission. I am disclosing this in accordance with the Federal Trade Commission's
16 CFR, Part 255
: "Guides Concerning the Use of Endorsements and Testimonials in Advertising."