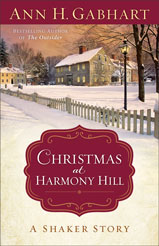 As the Civil War rages, Christmas brings a time of simple celebration to the Shaker village at Harmony Hill.
About the Book
It is 1864 and the nation is still torn apart by civil war when Heather Worth discovers she is with child. She has been working as a laundress with her husband's army unit, but when the army gets orders to march south to Tennessee, Gideon insists Heather go home to have their child under safer conditions. Heather agrees, but returns home to another kind of devastation–deaths in the family and a father who refuses to forgive her for marrying a Yankee. With nowhere else to turn, Heather seeks refuge at the Shaker village of Harmony Hill, where her great aunt Sophrena lives. There, after many peaceful years at Harmony Hill, Sophrena is having doubts about her Shaker path. Both women are in need of love and forgiveness–whether given or received. With Christmas coming, can the miracle of new life fill their hearts with unexpected joy?
Reading Group Guide for Christmas at Harmony Hill
Save
Other Books in "The Shaker Books"
Disclosure of Material Connection: Some of the links in the page above are "affiliate links." This means if you click on the link and purchase the item, I will receive an affiliate commission. I am disclosing this in accordance with the Federal Trade Commission's
16 CFR, Part 255
: "Guides Concerning the Use of Endorsements and Testimonials in Advertising."