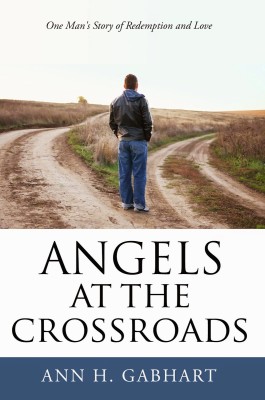 Angels at the Crossroads, one man's inspirational journey from wrongdoing to redemption.
About the Book

Angels at the Crossroads is the life story and testimony of my friend, Jerry Shepherd. Jerry is a talented tenor singer and he and my husband, who sings bass, both once sang with the Patriot Quartet. As we traveled around to Southern Gospel singings together, Jerry shared bits of his story and I felt the Lord pushing me to write down Jerry's story. The result was Angels at the Crossroads, based on Jerry's remarkable testimony.
Jerry is proof the Lord never gives up on any of us no matter what a mess we make of our lives or how far we try to run away from his love. The Lord is always there with us, loving us and encouraging us through providential circumstances and people to get back on the right roads in life. That's what happened with Jerry.
Jerry no longer sings with the quartet, but he is still available to share his testimony. Jerry's powerful testimony in word and song will be sure to inspire all who hear him. His amazing story of grace is the reason Angels at the Crossroads has touched so many readers. It's our prayer the book will be an encouragement to all those who may have ended up on a wrong road in life and help them recognize the "earth angels" at their crossroads who want to help them find their way back to a better life. Contact Ann or check out Jerry's Facebook page for more information on how to bring Jerry's inspiring story to your church or organization.
A PERSONAL NOTE FROM JERRY SHEPHERD…
For many years while telling my life story after I was released from prison, people would come up to me and tell me that I needed to have my story put into a book. I thought about it every now and then over the years, but then I would back off when I saw everything involved in getting a book together and getting it published. Angels In The Crossroads Well, it was too much for this old county farm boy to deal with, so things would cool off real fast and the thought of a book, let's just say, would be put on the back burner. I would give God another one of my excuses and leave it at that.
After I had been singing with the Patriot Quartet for four years, I came to another one of those crossroads that always seem to pop up in my life. With many hours and many miles on my body starting to take a toll on my health, I had to make a decision about continuing with the quartet or going into solo ministry to once again tell my story. Then along came Ann who is married to Darrell Gabhart, the bass singer in the Patriot Quartet. Ann is a writer and she had heard me tell parts of my story. She took an interest. We got together and all of a sudden the big word, book popped up.
God never ceases to amaze me. God always has a plan. God always brings the plan together in His own time. Thanks, Ann, for letting God inspire you to pick up pen and paper and write about my life. I pray this book will touch and bless someone at a crossroad in his or her life.
Disclosure of Material Connection: Some of the links in the page above are "affiliate links." This means if you click on the link and purchase the item, I will receive an affiliate commission. I am disclosing this in accordance with the Federal Trade Commission's
16 CFR, Part 255
: "Guides Concerning the Use of Endorsements and Testimonials in Advertising."