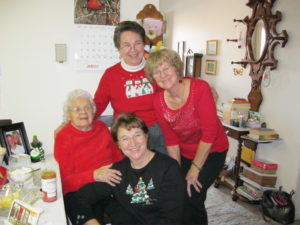 The same as many of you I've been blessed to celebrate many Christmas days. Also the same as you, I have great memories of those times. We always gathered to celebrate Christmas with my side of the family on Christmas Eve with my mother and my sisters and their families. Actually that tradition started when I was a child and we gathered at my aunt's house on Christmas Eve to have a wonderful Christmas dinner and open gifts. My aunt who never married lived with and took care of my grandfather. She treated my sisters and me like grandchildren. Loved us and spoiled us. Christmas was never quite the same for me after she died, but the Christmas Eve gatherings continued. My children remember wonderful Christmas Eves with my mother and father. Our children grew up and had children of their own, but we continued the tradition of family gatherings on Christmas Eve with Mom even after her memory started fading as dementia stole her from us.
Here in the picture a few years before she died, she was in the early stages of Alzheimer's. Still smiling and not looking as lost as some later pictures. This year my sisters gathered once more on Christmas Eve. Nothing like the way it used to be with a houseful of kids, but we shared talk and laughter and were glad to be together once more on Christmas Eve. Things do change, but somehow even when they do, traditions are remembered.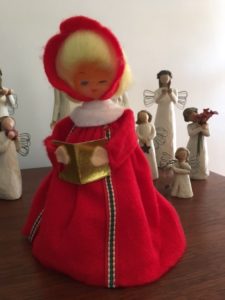 Here are a few traditions you shared with me during my recent Christmas giveaway. First Sonya tells about her favorite Christmas decoration.
I am attaching a picture of the sweet little angel I put on the top of my Christmas tree. It's not fancy or lit up, but it's my favorite Christmas decoration. You see, it was my paternal grandparents' tree topper. I used to help them put up their tree every year, and we had such fun. Once they passed, I inherited the little angel. Now, every time I place it on my tree, I think of my wonderful Christian grandparents and how they touched my life in so many ways. I surely was blessed with the best.
Holly remembers her grandparents too and how she carries on their tradition.
Our favorite tradition is Christmas caroling. My grandpa used to go with his siblings back in the 20's. When my dad and his siblings came along, Pepe took them caroling so that Meme could wrap all of their gifts (there were seven of them!). Then, my dad took us caroling with our friends so that our moms could have a girls' shopping night. Now, I carry on the tradition by taking my boys and their friends caroling each year. It's definitely the Most Wonderful Time of the Year! 🙂
And finally some memories from Janet.
One tradition we had as children on our Idaho farm was on Christmas Eve. I came from a family of eight children. We children would go to my father's shop while my Mother and Aunt would put the gifts under our Christmas tree. They would ring an old school bell and we would look out of the shop window and knew that we saw Santa and his reindeer take off in the winter snow. Then Daddy and us children would go to the house to open Christmas presents. My aunt sang in the church choir and so we would go to midnight Mass. I love to remember the good old days.
May you all have many happy traditions to remember and I hope you added some good memories this Christmas too. Thank you for reading.