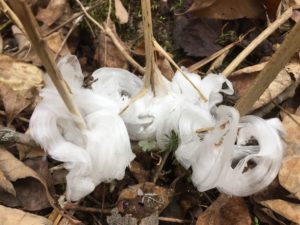 Have you ever had the opportunity to see frost flowers, also sometimes called ice ribbons, rabbit frost or rabbit ice? I've been spotting them around my farm now for several years. I think a new kind of weed spread into our area that is perfect for the formation of these delicate "petals" of ice. Early fall or winter is the best time to spot these beauties and you have to get out before the sun warms up and makes them all disappear. They can hang around in shaded areas for several hours if the day is cool.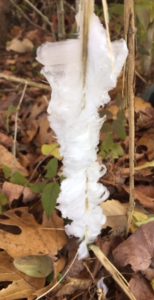 According to the information on Wikipedia, the formation of frost flowers is dependent on a freezing weather condition occurring when the ground is not already frozen. The sap in the stem of the plants will expand (water expands when frozen), causing long, thin cracks to form along the length of the stem. Water is then drawn through these cracks via capillary action and freezes upon contact with the air. As more water is drawn through the cracks it pushes the thin ice layers further from the stem, causing a thin "petal" to form.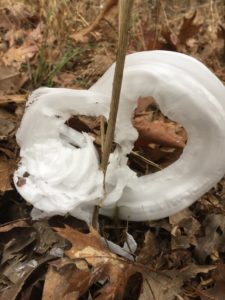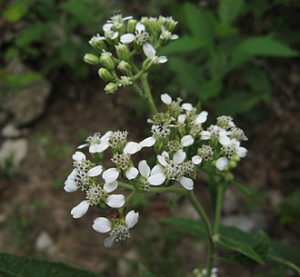 The plant  that now grows around here and gifts me with these works of natural art is white crownbeard (Verbesina virginica), commonly called frostweed. I've noticed those tall weeds blooming in late summer and fall. Its flowers are rather plain, but the frost flowers that form around its stems are lovely. I think it's according to the amount of moisture in the ground and the splits in the stems that result in the different formations.
I've taken all the pictures of the frost flowers here, but if you want to see more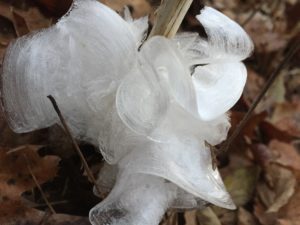 and some that are formed on wood that I've never seen happen around here, check out this link.
I enjoy finding these lovely examples of the wonders of nature. The ice looks a little like spun sugar and it's very delicate. A touch can break or melt it, but a camera is the perfect way to capture its beauty.
Have you ever seen frost flowers?