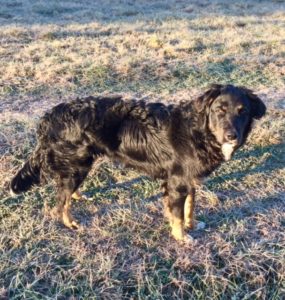 Meet my new dog, Frankie. He's very cute, isn't he? I haven't been without a dog of my own since I was about eight years old. So, when Oscar died of bone cancer in October, I sort of felt lost. What I had done in previous years was to always find a new dog to add to the family before I lost one that was getting older. But Oscar was supposed to live a few more years or at least I certainly wanted him to. But cancer is no respecter of age. Then once I got the hard diagnosis of Oscar's short time ahead, I couldn't think about getting another dog. Oscar really didn't like sharing his space with other dogs. He did endure them when my kids' dogs came to visit, but you could always tell he was glad when they went home and he had the house to himself again. With him sick, I couldn't get another dog to upset his last few weeks.
I settled into the no dog life thinking I'd probably wait until after Christmas to hunt a new furry friend. But then my granddaughter started searching the Petfinder site. That has shelter dogs listed. She sent me the picture of a really cute dog named Reuben and then wanted to go with me to meet him. Hard to turn down a granddaughter. So off we went to the Humane Shelter on her first day off school for Thanksgiving break. We met Reuben. He was a very cute dog. I liked him, but he didn't seem as interested in being my dog, if you know what I mean. He was very energetic and really just wanted to run. Still, I thought he might be my dog, but then I saw a dog the shelter had named Tyson. He looked at me with eyes that said, "How about me?" We took him out for a walk. Not good at all on the leash, but in the little enclosure where I could turn him loose, he kept coming back to me, wanting to be petted, putting his head in my lap. I had found my dog.
I changed his name to Frankie (the shelter had only had him a couple of weeks with the name Tyson) and he's settling in. But I have found myself thinking now and again that he's no Oscar. That might sound mean to you. Actually I didn't want to try to replace Oscar because I couldn't. Oscar was a very special dog to me. Frankie may end up being the same, but he'll be different. Right now he's not as easy as Oscar was. With Oscar, it was like he was a person in a dog's body. He just knew the things he could do and those he shouldn't do. Frankie is having some problems with that, but he is learning.
But the real reason I keep thinking that line of he's no Oscar is because of my Rosey Corner books. In those books, one of my characters, Graham, had a beloved dog named Poe in the first two stories, Angel Sister and Small Town Girl. But Poe was already getting old in those stories, so when four more years passed before the last story, Love Comes Home, Poe had passed on and Graham had a new dog named Chaucer. All through the story, whenever Graham talks about Chaucer he says he's no Poe. He said it so much that my other characters began saying "It's no Poe" whenever something didn't quite measure up to expectations.
Here's a bit of one of those scenes when Jay, a returning soldier after World War II, first meets Chaucer.
Jay gave the dog a closer look. Its mottled grayish-tan fur looked like it might have been spattered with white paint at one of Graham's painting jobs. One ear cocked up while the other one drooped, and it held up a stiff back leg. "I've seen better looking dogs, but then Poe couldn't win any beauty contests either." 
Graham frowned. "You must've forgot what Poe looked like. He was a fine figure of a dog. This one, poor thing." Graham ran his fingers across the white streak on the dog's head and its tail flapped back and forth as it rolled up its lips to give Graham a toothy grin. "He's no Poe, but I gotta admit, he's a dog." The dog leaned against Graham's leg.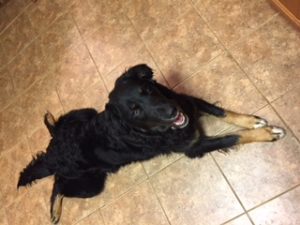 I'm not that way with Frankie. I know he's no Oscar, but he's going to be a very good dog for me. Already listening and trying to please. Already better on the leash. Still chewing on things he shouldn't. I've got to buy him some chew toys and soon! I bought dog food but didn't think about chew toys. The people at the shelter thought he was two or three, so I thought he would be past the chewing stage. Obviously not.
So yes, he's no Oscar. Instead he's a Frankie. And that's just fine.
As always thanks for reading. So what do you think about Frankie? What kind of adventures do you think I'll be having with him?