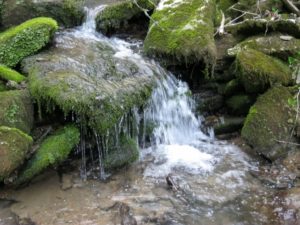 When peace like a river, attendeth my way,
When sorrows like sea billows roll;
Whatever my lot, Thou hast taught me to know
It is well, it is well, with my soul.
"It Is Well" is a beautiful song and the story behind the words is powerfully inspiring. Horatio Spafford had a Job like experience with his young son dying and then his real estate investments destroyed by the Great Chicago fire. As if that wasn't tragedy enough, he then lost his four daughters when the ship they were traveling on to Europe, the 'Ville de Havre' collided with 'The Loch Earn', an English vessel in November 1873. The ship sank in twelve minutes, claiming the lives of two hundred twenty-six people including Spafford's daughters. Only his wife was spared. She sent a telegram to her husband which read, in part, "Saved alone. What shall I do?" It is said Stafford penned the words of the song as he traveled across the ocean to Europe to be with his grieving wife. Not long afterward, Philip Bliss composed the tune that so aptly fits the words of the song and "It Is Well" was first published in 1876. Bliss called his tune Ville du Havre, from the name of the sunken ship.
That song has since inspired and comforted many. Including me. The Patriot Quartet, the Southern Gospel singing group my husband sings with, recorded that song on one of their CDs. So when my mother died three years ago, my sisters and I chose to have that song played at her funeral. After that, one of my sisters said the song seemed to follow her around as she heard it everywhere she went. I too often heard the song and it did bring back the sadness of losing Mom. But at the same time, we could know that yes, it was well with Mom's soul. Here's a link to the Gospel group, The Isaacs, singing the song.
This story of faith that resonates in the words of this song came to mind again after the tragic events of last weekend. A different kind of tragedy for certain. One that demonstrates the power of evil in our world instead of an accidental collision of ships. But I can only hope and pray that the people who are living through this tragedy will feel the presence of the Lord in their lives and somehow be able to find the peace that passes understanding that the Bible promises.
God is our refuge and strength, a very present help in trouble. Therefore we will not fear, even though the earth be removed, and though the mountains be carried into the midst of the sea. ~Psalm 46:1-2 (NKJ)
And the peace of God, which surpasses all understanding, will guard your hearts and minds through Christ Jesus. ~Philippians 4:7 (NKJ)
Do you have a song or Bible verse that comforts you in times of trouble?