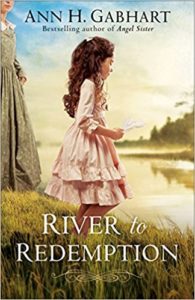 For an author, one of the highlights of a new book's journey to publication is seeing the cover that is going to be wrapped around the words of your story. In traditional publishing, the publishers have an art department with talented people who work hard to make those book wrappers as attractive and compelling as possible. That's because the cover is often what first catches a reader's eyes on a bookstore shelf or on an internet book page. I am very fortunate to be published by Revell, a division of Baker Publishing Group, where they take pride in coming up with the best covers ever like this one for River to Redemption.
So how do they come up with covers that suit a story? The author starts the process – not simply by writing the book (not that that's simple) but by filling out a form that helps the art department know about your characters and your story. While I admit to not enjoying filling out these questionnaires that eventually help with coming up with the best titles and those gorgeous covers, I do realize they are a necessary part of the design process. On the form, I have to describe my main characters, but not only their eye color and how they wear their hair. I need to tell what my characters might wear in the historical era or because of their personalities, occupations or stations in life. What are their dreams and goals? Are they happy personalities with always a smile or more serious and pensive?
You'd think all that would be easy to jot down after writing a 100,000 word novel about these people, but I still struggle to condense my characters down into a couple of paragraphs. Once it's done, I send the form back to the publishers and they take what I tell them about the book and the characters and brainstorm for the best cover. One of the questions on that form is what scenes I might suggest for the cover or if any particular landmark would be important. I sometimes suggest something, but what the art department comes up with is always better.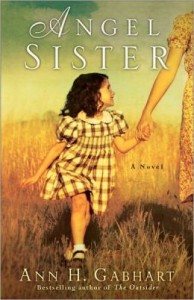 One of my very favorite covers is Angel Sister. That's because they got the little girl, Lorena, just right on the cover. If I could have lifted my young character out of that book and taken her picture, she would have looked exactly like the little girl on the cover. Then to make it even better, the child model has the perfect look on her face as she gazes up at Kate, the one she considered her "angel" sister in the story.
And now I have another cover with a perfect little girl on the cover. This time it's my main character, Adria, who is seven years old at the beginning of the story. Again, my publishers' art department found the perfect model for Adria and the river in the scene is a great tie in with the title. It's a long time before River to Redemption will be available for readers, July 2018, but it's already up for pre-sale on internet sites like Amazon. So if you're interested, you can go over there and read about it.
I generally don't do a cover reveal until much closer to the publication date, but since the cover is already out there on the net and has appeared with other upcoming books on different blog posts, I decided I'd give you, my reading friends here, an early peek at it.
So what do you think? Is it a cover that might make you pick it up off a bookstore shelf to read more about it?