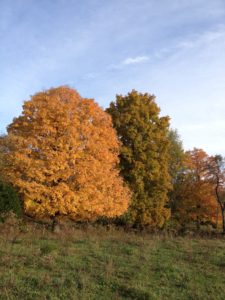 Sometime in the 1960s ~
Jocie Brooke here reporting from Hollyhill, Kentucky. Do you love autumn? I do. Almost as much as I love spring. I mean you have to love spring the most. That's when winter is going warm and you can see summer vacation from school not that far away. That's the spoiler with autumn. School. Every livelong day. Well, except Saturday and Sunday. And Sunday is church. No getting out of that even on the most beautiful fall days when you're a preacher's kid.
Not that I mind church. I like hearing Dad preach. Well, when he's behind the pulpit. I don't like it as much when he's just preaching at me at home because I've done something I shouldn't have. I'm good at that – doing something I shouldn't. Dad says I will surely eventually learn to think before I open my mouth and say things I shouldn't. Maybe. He tells me to be careful what I write too. That people read what you write and don't forget it. He should know because besides being a preacher, he's a newspaper editor too. Trust me. People can get real excited about what they see in the local paper. Real excited and real upset sometimes. Dad takes it all without turning a hair. He says a man, even a preacher, can only do the best he can and pray that he will recognize that best. A girl too, I suppose. I guess I need to remember that praying part before I do things that get me in trouble. Dad assures me that the Lord won't lead me wrong.
He didn't for sure yesterday when I went walking on Miss Sally's farm. She has the best trees and they always seem to turn to the prettiest colors as though they are just trying to please her. Miss Sally is that kind of person. One you want to make smile. Guess Mother Nature might feel that way too and just make trees a little brighter on Miss Sally's farm. Miss Sally just says she hopes the good Lord sends a strong south wind to sweep the leaves off her yard and over into her garden. I sort of hope so too because if it doesn't, I know Dad is going to say we need to go rake them up for Miss Sally. She has these two huge maple trees in her yard. They make lots and lots of leaves.
Of course, that does make for big piles of leaves to jump in. I used to love to do that when I was a little kid, but now that I'm older, I just seem to get crunched up leaf pieces in the most uncomfortable places. Does that mean I'm getting old? I hope not. Now I'm going to have to jump in some leaves just to prove I'm not too old for some fun. Never mind the spiders that are probably crawling around in all those leaves. They're the ones that better watch out for me.
You think Jesus ever jumped in a pile of leaves? But I don't think they had maple trees in Galilee, did they? But they would have some kind of trees. I'll have to ask Dad about that. He'll probably make me look it all up in the encyclopedia. I don't mind looking stuff up because I usually come across lots of other good stuff while I'm looking up whaterver it is. Like this quote I found.
Autumn is a second spring when every leaf is a flower. (Albert Camus)
Dad liked it so much he put it in the paper. I don't know about every leaf having a pretty color, but I do know lots of them crunch when you walk through them. I like crunching through leaves, don't you?
Save