"If a picture is worth a thousand words, then the imagination is worth a thousand pictures." ― J.E.B. Spredemann
Are you ready for another mystery picture? Got your thinking caps on? Ready to laugh because this one is so easy or ready to squint your eyes for a better look because it is anything but easy? Well, whether you said yes or no to any of that, I hope you had fun guessing on the first mystery picture I posted Sunday.
Twenty-seven guesses came in. You were all pretty sure it was some kind of plant. Well, except for Doris and Emily who thought it might be a caterpillar and Jeanne who got even more precise and said woolly worm hair. I never thought about woolly worms having hair, but I guess it could be called that. Don't think I have a comb small enough though.
Ladies, it's not a caterpillar or woolly worm, but did you know that in some places they have fall festivals that feature woolly worm races? They say thousands show up. I'd be amazed but then a little country store, Penn's Store here in Kentucky, has outhouse races. No, not a race to the outhouse, but entrants in the race make outhouse replicas and then carried them in the race. I think there had to be somebody in the outhouse. This year was their 26th year. Sorry, you just missed it since they had the Outhouse Blowout a couple of weekends ago. Don't believe me? Check out the Penn's Store website and of course you can find videos on youtube.
But back to the guesses. Connie threw out a wide net with her guess of a plant or weed and I can't say she was wrong. Two guessed sunflower heads. Two said Venus flytraps. Several guessed chestnuts and buckeyes with sweet gum seed a popular guess. Amy said it looked sort of like a fishhook cactus and Paula thought cactus too while Lillian just guessed thistle. Other guesses were milkweed pods, gooseberry, swan plant seed.
And I learned about some new plants and fruit. Lois said kohlrabi. Never heard of kohlrabi, but looked it up. It was green. Then Ellen said rambutan. Again, I was in the dark. But while she wasn't right, she was on target. If the mystery picture had been red, it would have been a dead ringer. Both of these are food although you need directions to get to the rambutan fruit. You cannot eat a cocklebur. They are poisonous to both humans and animals if ingested. Not something anybody would want to eat anyway. So thanks to your guesses, I learned something new.
And then three of you were right. Evelyn was right, but I never heard it called a knucklebur. Dorita and Laura called it wh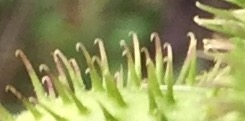 at I call them – cockleburs. If you've ever had a dog with long hair and let the dog run out in the fields, you may have had some unpleasant times trying to work cockleburrs out of their fur. I used to have a cockerspaniel who thought he was a farm dog. He was a cocklebur magnet. Oscar always stayed away from those cockleburs, but his hair is too short to grab them anyway.
Okay, now it's time to guess again on the new picture up top. This one may be too easy. We'll see. Easy or hard, if you guess or even just leave a comment saying you don't know, you'll get another entry in my giveaway. I'll pick three winners on October 11, 2017 and those winners will get their choice of one of my books, autographed to them or to someone else if they want to give the book as a gift. You must be at least 18 years old to enter and the contest is void where prohibited. No purchases or actions, other than the comments here on the blog post, are required to enter.
So hope you'll have fun guessing, and as always, thanks for reading.
Save