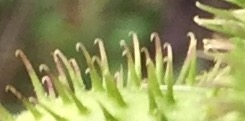 It is not enough to be busy. So are the ants. The question is: What are we busy about? ~Henry David Thoreau
Do you ever feel as though you might just be spinning in place and not getting anywhere? Sometimes that's how I feel. I'm busy, busy, busy, but what am I really getting done?
I have had a busy month with the release of my new book, These Healing Hills, but that's been a good kind of busy. I've been out on the internet doing guest posts here and there. (Watch for one tomorrow with a book giveaway. I'll post the link on my Facebook page after the post goes live.) I've heard from readers and done giveaways. I had a local book event, Breakfast with Ann, that was sponsored by Tastefully Kentucky, a great store here in my hometown that carries local authors' books along with all kinds of culinary goodies from Kentucky Chocolates to specialty teas to Crank & Boom ice cream. Not to forget the country eggs and the Amish butter. Not sure how my books fit into all that, but I'm glad they do and that I now have a place here in my hometown to tell people they can get my books. I'll still have my own Hometown Book party too. If you are in the area and interested in hearing me talk about my new book, you can check out my News & Events Page. The book party will be in a couple of weeks. I've already got some door prizes ready and I'll have to bake something chocolate for sure.
So I've been busy getting word out about These Healing Hills to readers. A giveaway is going on right now for all the Revell titles published so far in 2017 which includes not only These Healing Hills but also Murder Is No Accident. Enter at Soul Inspirationz.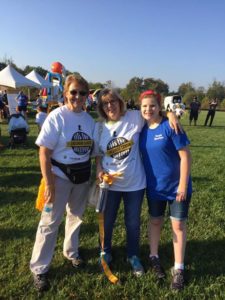 But busy doesn't stop there. This weekend I walked in the St. Jude Walk for the Cure. Our family can never repay St. Jude for the life saving treatments my great niece received there. Many of you prayed for Kaelyn while she was receiving her treatments and I know you will be happy to know she's doing well. She's in the picture here with her grandmother and me at the walk. Many other families who have had a child treated there feel the same gratitude to St. Jude as our family. A mother spoke at the walk Saturday about how her 15 month old son was diagnosed with cancer and given a 45% chance of survival. Today that child has been cancer free for seven years and every year I've been to the St. Jude walk, his team of family and friends have been the top fundraisers there. St. Jude is in the business of saving children's lives. So walking for St. Jude Saturday was a good kind of busy.
Then my wonderful grandkids have a way of adding some busy days to my life. Last Saturday I watched my granddaughter ride in a horse show. This Saturday two granddaughters came to spend the night and we went to our town's Burgoo Festival. Didn't eat any burgoo though. Next weekend I'm going to a storytelling festival with my daughter and my sister plus our church is having Homecoming on Sunday.
But somewhere in all this busyness, I need to put my fingers on the keyboard and write another book. I tell myself I'm letting the story build in my imagination, but somewhere along the line that building has to start piling up some words on paper or computer.
Everybody is busy these days. Busy is good. But I'm not too busy to have some fun with you here and it is definitely time for another mystery photo game and book giveaway. A new book means time for a blog giveaway and while These Healing Hills isn't a mystery story, we can still have fun with a mystery photo game. So check out the first mystery photo up top. Do you know what it is? Leave your guess in a comment here and that will get you entered in a drawing for one of my books, winners' choice.
The contest is open to those of you 18 years and older. Each time you guess on a new mystery photo in the next couple of weeks, you get a new entry in the drawing. I'll pick three winners. I'll post five mystery photos (I hope I can come up with that many puzzlers) in the next couple of weeks here on my blog posts. Deadline to enter is October 10, 2017 at midnight EST. I'll draw for the winners and notify them by e-mail on October 11th before announcing the winners on my blog that night.
So, ready, set, guess! And as always, thanks for reading and for playing my games here on One Writer's Journal.