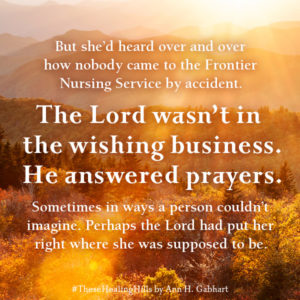 "If you feel lonely God is your smile. If you cry God will wipe your tears. If someone breaks your heart God will embrace you. God will make a way into your heart." (Unknown source)
The graphic here shares a bit of a passage out of my new book, These Healing Hills. It fits the theme of the stories some of you have been sharing with us of God's care and how He does answer prayers. Nothing is by accident. Connie tells of a time when God used music to help her through a very difficult time.
I have always known that God was with me, but one situation, when He showed His love and care for me, was when my thirty year marriage broke up. It was Christmas and I was devastated. God has always spoke to me through music. I was singing in a choral group at that time. When our group met after Christmas to begin work on our Easter music, the song "God Will Make a Way" was included in our music. I claimed that song, and knew that God prompted our director to choose that song for me. Each week when we sang that song, I knew it was God's way of speaking to me, and letting me know that I would be okay. I think of God's care and provision each time I hear that song.
Music can draw us nearer to God and help us feel His everlasting love. Bonnie shares with us a life testimony of God's love and protection. I have met Bonnie. She has a great love for the Lord and also for Christian fiction. She is always ready to do whatever she can to help the many writers she has encouraged over the years. We were at a conference recently and it was heartwarming to see the many people who were drawn to Bonnie and so ready to love her because they had already felt her love for them. But here's Bonnie's story.
There are so many times in my 73 years if it were not for God's protection, I wouldn't be alive. It actually began the day I was born – at home – on a snowy, slick, Christmas day when the doctor couldn't be located, but came walking in the door just as I was being delivered. My mother's attendants were my father and my aunt.
As a toddler, a rooster spurred my face so close to my eye, an anesthetic couldn't be given when the injury was sewn up. A year or two later – I came within minutes, perhaps seconds, of dying when my mother, grandmother, baby brother and I were asphyxiated. We had already gone to sleep when my aunt and uncle came in and found us. A near-drowning as a teenager (I was never able to learn how to swim after that scare). An accident in which I was alone and rolled a pick-up truck while working as a night courier – on the interstate in the wee hours of the morning – and woke up in a hospital emergency surgical room.
A move to another state (alone) where I had no friends/family, place to live, or job. But it was at God's leading – to become a cast member, for a year, of an ongoing passion play about the life of Christ – and was one of the most spiritual times of my life. There have been numerous other near escapes through the years, and perhaps now – my final one, cancer for the third time (stage 4 metastatic). God controls my life, I trust Him and have faith He works all to my good – when I have fulfilled His plan for my life, I will see His beauty and that of His Heaven.
Thank you for that testimony of faith, Bonnie. You are an inspiration as you face this latest challenge with courage with your unshakeable faith that the Lord does work for your good. This last story is short and direct. A one sentence prayer to let the Lord know just what Elaine needed. Do we sometimes wrap our prayers in extra meaningless words when perhaps the Lord wishes we would just come out with what we want? Here's Elaine's story.
I do recall one time when I knew I needed some work done on my car and wasn't sure how to pay for it, my pastor prayed a one sentence prayer over me, "As you've been with Elaine in the past, be with her." That calmed me as I reflected on God's previous provision. Someone I knew offered to check my car out and the repair bill was significantly less than I anticipated.  God met my need again!
Simple. Direct. Effective. Thank you for sharing that with us, Elaine
The Winners….
And now for the winners of my giveaway to celebrate the release of These Healing Hills. I thank all of you who joined in my giveaway fun. I so appreciate the stories you shared. I may yet share more of them here, because I do appreciate your willingness to stand up and testify of the times you felt the Lord's providential care. Beautiful stories of great and small blessings.
I've already contacted the winners. So far I've only heard from one, so if you see your name here, please check your e-mails. Some things that shouldn't sometimes end up in your spam mailbox. All right, I'll stop delaying and get on with it. My first place winner who gets her choice of the wooden keepsake box plus one of my books is Connie L. Fun that I'm also sharing her story here tonight. The second place winner is GB. She's already seen her e-mail and contacted me. She will get whichever prize Connie doesn't choose along with one of my books. She picked the new one, These Healing Hills. Third place winner is Jean Ann L. who will get her choice of two of my books.
Again thanks so much for helping me celebrate a new book. I'll come up with something fun to do here to give away a few more books soon, so stay tuned. As always, thanks for reading.
Save
Save
Save
Save