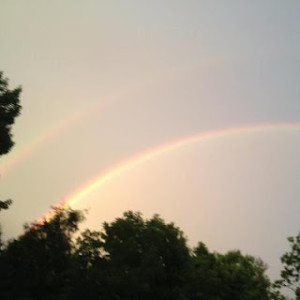 "You can understand why I'm a believer. I have seen miracles." ~Ben Carson
When I sent out my newsletter with a giveaway celebrating my new book, These Healing Hills and invited readers to share stories about a time in their lives when they felt a special touch from the Lord, I was sure I would receive some amazing stories of faith and love. And I have. I asked for those kind of stories because in my book, my character recognizes the Lord's providence in her life after she comes to the mountains to train to be a midwife.
Vicki's story is one step beyond just the Lord directing her path through life. She was a "miracle girl." But I'll let her tell her story in her own words.
"I definitely have a story! Twenty-four years ago I was pregnant with my 3rd, and final, child. After one big hemorrhage where I lost half the blood in me, I was admitted at 6 months to spend the rest of my pregnancy in the hospital. Well I started to hemorrhage again at 7 1/2 months. We had moved to a new city and I almost died. I had 36 units of blood transfused. I was originally in guarded condition and then in ICU. One night I was feeling very scared and alone. It was way past visiting hours so no one was there with me. I just felt so alone. I had been in and out of an induced coma. Well, that night I had a doctor come in and ask me if I was the "little gal" from an Idaho town. Yes, I said. Well, he said he and his wife had moved to Cali 6 months before, after he retired, to teach at this University of Cali Hospital. He was from the same town as I was and told me the street he had lived on and I told him mine. I felt such peace. Here was this man from my hometown. Even though I hadn't lived there since I was 18, it was still home. Anyway, I needed that connection at that moment. He told me he would be back the next day to meet my parents, who had flown in to see me one last time since I wasn't expected to live. Never saw him again.
A couple of years later I was in my hometown and decided to go through my sister's old phone books to look for him prior to the time he had moved. He had told me his name was Dr. Wright. I went back years and never found a Dr. Wright that had ever practiced there. I can't remember anything of his face except it was kind. Everything else I remember was just whiteness about him. His hair, his doctor's jacket. I truly believe that God sent an angel to me to let me know I was going to be okay. I was. I should have died. My doctors themselves said they considered me living a true miracle and Divine Intervention.
I still cry when I think about it. I had people from all over the hospital coming to see the "miracle girl"! Like I said, I was terrified and having Dr. Wright come at a moment when I was so alone and scared put me at peace. Not only that but after 2 huge hemorrhages and being born at 32.5 weeks, my son was fine."
How can you not want to cheer after reading a story like that? Thank you so much for sharing your story, Vicki, and for being willing to let me share it forward.
I promised to share more about my giveaway. Here are the prizes.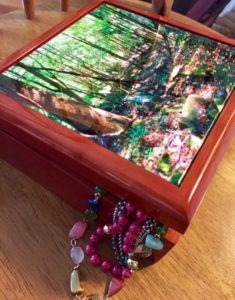 The first picture is a wooden box with a woodsy picture that made me think of some of the mountain scenes in my books. My heroine has my lack of directional sense and is always getting lost when she's trying to find the mountain homes of her patients. The other is a wooden tic-tac-toe game crafted in the Appalachian Mountains. The 1st place winner gets his or her choice of the prizes as well as a choice of one of my books. 2nd place winner gets the prize that's left and one of my books. 3rd place winner gets his or her choice of two of m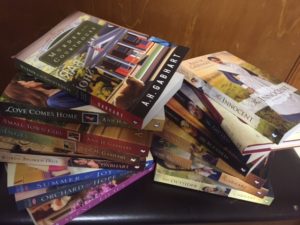 y books. Enter by sending me a message from my contact page or leaving a comment here. One entry per person and you must be at least 18 years old to enter. Deadline to enter is September 4, 2017 at midnight EST.
As always, thanks for reading.
Save
Save
Save